Surely you've seen the 33 1/3 books at some point, even if you've never read one. They're pocket-sized paperbacks, each of them personalized studies of a single rock album. There are more than 30 books in the series now, encompassing prolonged meditations on albums by everyone from Prince to Radiohead to the Smiths. Since these books are coming out faster than anyone can keep up with, we've rounded up a few of the new titles and dipped back to one that we missed on the first go-around.
Sponsored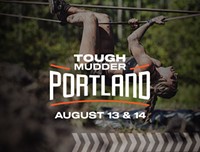 Lock in your summer adventure, Portland. Join us for world famous obstacles over a 5K or 10K distance.
In the Aeroplane Over the Sea by Kim Cooper
It all happened in a hot magmatic flash; Neutral Milk Hotel dropped Aeroplane on February 10, 1998, met the drooling rock media head on, and then vanished by the end of the year. Nowadays all that's left is two full-lengths, an EP, and news of singer Jeff Mangum hermiting off in a monastery (or doing field recordings of Bulgarian folk festivals.) Kim Cooper sums up the story in three quick pages, then starts back at the beginning, winding up to the birth of Aeroplane—a messy, alive-sounding, psychedelic "fuzz folk" record with clattering production, a brass section, and a beautiful, sad, surrealist narrative based around the life, death, and reincarnation of Anne Frank. Cooper sits back and lets the band members, fans, and other sideliners tell the story, and the result is more oral history than rock criticism. A damn fine read. ADAM GNADE
Doolittle by Ben Sisario
Unlike most self-respecting urban-area Portlanders, I'm not intimately acquainted with the Pixies' Doolittle. Ben Sisario's account of the band's rise to fame, the Doolittle recording sessions, the Pixies' subsequent nonstop touring, and the inevitable meltdown and breakup, is chronological and hardly innovative, but interesting enough to make me give the album a serious listen (and who knew? It's fucking great!). But I think hardcore fans that already know about Black Francis (AKA Frank Black) and the band will be slightly disappointed. To help him write the book, Black drove Sisario around the Oregon coast for days on end, a pretty amazing level of access to a notoriously surly songwriter—yet the experience is largely ignored. Either hanging out with Black wasn't nearly as exciting as one might hope, or Sisario, like too many music writers, got too busy showing off his research skills and mastery of obscure cultural reference to focus on what fans will really care about: an up-close hangout with one of the most eccentric figures rock music has ever produced. JUSTIN W. SANDERS
Paul's Boutique by Dan LeRoy
This one starts with an amazing scene: In June of 1989, the Beastie Boys stood atop the Capitol Records building, having just completed Paul's Boutique. An airplane wrote the name of their group in the sky, a Beastie Boys flag flew high and proud, and Paul's was hailed as "the Sgt. Pepper's of its era." But a few floors below, Capitol's furious CEO was declaring that the album had made Capitol "the laughingstock of the industry." Paul's was the opposite of what the label expected—they wanted License to Ill 2, not some densely psychedelic, groundbreaking art project.
LeRoy's right to start off with that bit, since his book loses steam shortly thereafter; dealing largely with the record's myriad producers, he paints a thorough but dry picture of the album's creation. The book never tops that striking, dichotomous image: the Beastie Boys, cherished and detested, criticized while at the top of their game, with an album that, it would turn out, was far ahead of its time. ERIK HENRIKSEN
Endtroducing... by Eliot Wilder
Endtroducing... isn't one of the newest books in the 33 1/3 series, but the fact that it's been 10 freaking years since DJ Shadow's masterpiece came out (and the fact that I really wanted to learn more about it) qualifies it for review here. Aside from an overlong introduction, Wilder uses his 100 pages in an extended interview with Shadow. Sounds dope, right? I thought so, too. Unfortunately, Wilder doesn't get Shadow to dig deep into the album (which is so sonically and technically rich that it seems almost harder not to talk about it than to do so), and the author spends most of the interview plotting a timeline of Shadow's life and career. The album at hand doesn't even pop up until the very end of the book, and even then, the DJ is reluctant to discuss his myriad samples (for legal reasons), and Wilder never prods him into discussing the orchestral ideas behind this groundbreaking sonic collage.
Sponsored
Virtual Auction Event & Drag Queen Fashion Show. You won't want to miss this show!