Portland has always been a hotbed of creative talent—from fashion, to music, to literature—so it's no surprise that we're also home to scads of the country's best graphic artists. And nothing showcases the Portland comics scene—and that of the rest of the country—better than the Stumptown Comics Fest: A two-day extravaganza of smart art, workshops, exhibits, and panels, all devoted to the best in alternative comics.
Sponsored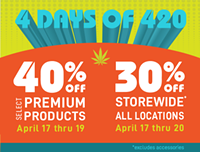 30-40% off Premier Dispensaries April 17-20
Flower, pre-rolls, edibles, carts and more.
These 4 Days of 420 are for you.
Whether you're interested in hearing some of the nation's most talented comic artists speak, or picking up the newest work from emerging cartoonists, you're sure to find something new and challenging. There will be panels on politically active cartooning with Ted Rall, Matt Bors and more, as well as "spotlight" conversations with such indie world luminaries as Peter Bagge (Hate), editorial illustrator Carol Lay, and longtime Portland staple Sarah Oleksyk.
It's the fourth year for the fest, which keeps getting bigger—and not only is it centrally located at the Lloyd Center Doubletree Hotel (1000 NE Multnomah), daily admission is only $5! Check it out this Saturday and Sunday (Sept 29-30, 10 am–6 pm), and to whet your appetite, the Mercury is pleased to showcase a few of the comic artists gracing this year's fest, including Shaenon Garrity, Mike Allred, Ted Rall, Sarah Oleksyk, Peter Bagge, and Carol Lay. Don't miss the Stumptown Comics Fest: It's a new way of looking at the world around you.
Check out stumptowncomics.com
P.S. If you click the images below, you'll be able to see them better.
CAROL LAY
waylay.com
MIKE & LAURA ALLRED
aaapop.com
PETER BAGGE
peterbagge.com
SARAH OLEKSYK
saraholeksyk.com
TED RALL
tedrall.com
SHAENON GARRITY
narbonic.com