Portland prides itself on being young, smart, and DIY, full of hip young twentysomethings making art and taking advantage of cheap rents and abundant bike lanes. This indie, progressive aesthetic marks the art, fashion, and music scenes, but it's strange how rarely the sensibility is reflected in the theater world. The comedy scene is alive and kicking, and a few companies (Fever, Liminal, and Hand2Mouth come to mind) carry a certain youthful cachet, but one thing that has consistently surprised me in a year of reviewing theater in Portland is how frequently I'm the youngest person in the audience. There are exceptions, of course, but for the most part, it would seem that plays are largely attended by theater folk, old people with subscription tickets, or, quite often, few people at all.
Sponsored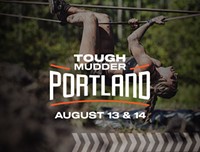 Lock in your summer adventure, Portland. Join us for world famous obstacles over a 5K or 10K distance.
An apparent lack of interest in local theater on the part of most of my peers has been a prevailing motif. Friends "mean to" go to the theater, or "did plays in high school"; few people I know turn to the theater as a valid form of entertainment. More often than not, theatergoing lands somewhere between going to the art museum and going to the dentist: You might do it because it's good for you, but probably not because you expect to have a good time.
Price, of course, plays a role in this as well. Many companies in town boast ticket prices that are legitimately unfeasible for the barista crowd; you can expect to pay upward of $30 for a show at Artists Repertory Theatre or Portland Center Stage.
Theater is grounded in a capability that film and television, due to their scope, rarely possess: the ability to address viewers directly and specifically, to tailor both message and medium to a narrow audience. This season, two young theater companies are reaching out to the audiences that should be going to the theater, but aren't: the smart, progressive, literate young people that Portland has so many of. Whether Many Hats Collaboration and P.Boy Productions are successful or not remains to be seen; at the time of this article's publication, neither of their shows have opened. It would seem, though, that both are poised to deliver exactly what the community is missing: affordable, relevant work that entertains without pandering.
MANY HATS COLLABORATION
Many Hats is a theater company comprised of three out-of-towners, women who have worked in New York and California, did time at the California Institute of the Arts in Los Angeles, and came together in Portland in 2004 around an interest in iconoclastic, challenging theater. I spoke at length with Jessica Wallenfels, Many Hats' producer, about our shared frustration with much of the theater in Portland. She told me that Many Hats came about in part because of a simple understanding: that Wallenfels and her co-founder, Lava Alapai, had to do the kind of theater they wanted to see.
Striving for a balance between intellectual, heady theater and the gut-driven, emotional approach (head world and heart world, if you remember middle school English class), the key to Many Hats' approach lies in the belief that theater offers a kind of audience engagement that other mediums do not. With their upcoming production of Mutt, Many Hats aims to tackle a complicated, loaded subject matter with humor and sophistication, without shying away from controversy.
Mutt was written by Alapai, who also stars in the show. The script focuses on a young woman who checks the box marked "Caucasian" when filling out a college application, only to be informed that she checked the wrong box: she is, in fact, African American. Mutt follows the character's attempt to "be more black"—to explore what it means to be African American, or what our culture thinks it means, at least. The journey involves a frank discussion of language (yep, the n-bomb), dancing, a Whoopi Goldberg puppet, and a white Stevie Wonder.
Exploring race in a city as white as Portland is a touchy proposition—there's a risk of the conversation devolving into either a one-sided (white) back-patting session, or outright insensitivity/offensiveness—but Many Hats seems fully cognizant of this danger. When the script was in development, Many Hats sponsored community forums and visited campus multicultural groups to discuss bi-racial issues, experiences that helped shape and inform the writing.
The thing that stands out most about Many Hats is that they get their audience. They get that audiences these days are smart, cynical, and won't be pandered to, and that the line between what's offensive and what's funny is as blurry as the line between what's offensive and what's true (see South Park, Sarah Silverman, et al.). They also know what they're doing: They have the experience and the know-how to produce the kind of work that they (and I) want to see.
P.BOY PRODUCTIONS
P.Boy Productions will already be familiar to a number of readers: the two-man production team consists of Sissyboy's Lee Kyle, AKA Splendora, and his partner, Devan McGrath. Two years of acting in and producing Sissyboy's over-the-top bar shows have fostered the couple's desire to explore slightly more sober territory. They already have two successful productions under their belts: Shy Hunters in Love with the Moon, was a night of monologues drawn from the work of beloved local author Tom Spanbauer (a side note: if you don't love Tom Spanbauer, you really should); the other, Maybe I'm Just Like My Mother, Lee Kyle's one-man show about his relationship with his mommie dearest, sold out the entirety of its four-show run. Being local queer icons help draw a crowd, to be sure; but there's more to this duo than meets the eye. For their first full-length production, P.Boy is producing Jean Genet's The Maids, a complex, heady text that happens to be absolutely perfect for P.Boy's unique combo of brains and style.
The play was selected by Lee Kyle, who, when we spoke, had a sore wrist from practicing cracking a bullwhip. Lee Kyle chose the play (and also performs in it, hence the bullwhip), confirming my suspicion that this man has an uncanny ability to gauge and respond to the needs of an audience. Genet is about as iconic as a gay French criminal/playwright can be, yet his work is rarely produced, probably because his text can be cryptic, repetitive, even intentionally off-putting. Luckily, McGrath (a veteran of community theater and Sissyboy's resident video production expert) has the conceptual framework of a French lit major, and knows exactly where the production is going. The Maids, a twisted little number about the relationship between two maids, and their "madame," was originally intended to be performed by men in drag, which dovetails nicely with P.Boy's interest in queer and gender issues. This combination of camp and criticism, highbrow and low, plus the technical and production know-how developed over two years of Sissyboy shows, could serve P.Boy very well.
The "P," by the way, has not been officially defined; it doesn't stand for anything, or it stands for Portland, punk, penetration, pee... (think the infamous Lee Kyle/bottle of urine scandal; look up "piss in a bottle" on YouTube if you don't know what I'm talking about).
It remains to be seen how successful either of these productions will be. As always, theater is a hard sell. You have to see good theater to believe that it matters, and few people see theater at all. Both companies, though, represent a step in the right direction for the Portland theater scene, a further effort to get the kids involved in what is all too often an irrelevant and inaccessible scene.
Many Hats'
Mutt:
Interstate Firehouse Cultural Center, 5340 N Interstate, 952-6646, November 24-December 9, $12P.Boy's
The Maids:
The Back Door Theatre, 4319 SE Hawthorne, 971-506-9291, November 9-December 9, Thurs-Sat 8 pm (no Nov 23 show), $10-12
Sponsored
Virtual Auction Event & Drag Queen Fashion Show. You won't want to miss this show!