PORTLAND COPS say it's time to clean up the Central Eastside.
Sponsored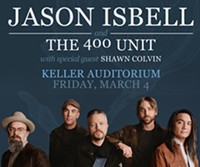 Jason Isbell has established himself as one of the most respected songwriters of his generation. Don't miss Jason Isbell and the 400 Unit, March 4th at Keller Auditorium!
Pointing to rising complaints and an uptick in visible homelessness, the Portland Police Bureau launched its most intensive anti-camping effort in years on Tuesday, May 26—a weeks-long push to clear camps from inner Portland.
"It's gotten a little out of control," PPB spokesman Sergeant Pete Simpson told the Mercury on Friday, May 22. "For a couple of weeks there's gonna be sort of an ongoing effort to address the entrenched camps."
That effort—coming as the Rose Festival ushers in Portland's tourist season—is the most organized effort to push out campers since Mayor Charlie Hales ordered sweeps around city hall in 2013. It's also inspiring heated debate about whether an increasingly unaffordable Portland should be cracking down on camping without adequate shelter space or cheap housing to offer homeless people.
But there's a reason to suspect much more of this sort of activity is on the way: Hales wants to nearly double the money the city spends cleaning up homeless encampments next year.
In a plush budget that contains more than $2 million for veterans' housing and homeless outreach, the mayor's also proposed $450,000 for picking up belongings and refuse left behind when the city moves campers along. That's a big jump from the $236,441 the city estimates it will spend clearing nearly 150 campsites in the current fiscal year (which ends June 30). And, assuming Portland City Council approves, it'll go toward a bureau that didn't even ask for it: The Portland Office of Management and Finance (OMF).
"This is at the mayor's direction," says OMF spokeswoman Jen Clodius. "We're trying to comply but still trying to figure out how to do this."
Actually, OMF has more than a year's experience to go on. It's been paying for cleanups since April 2014, when the mayor's office announced a new idea for clearing out homeless encampments ["Sweeping Up," News, April 9, 2014].
By contracting for cleanup services with local security firm Pacific Patrol Services (PPS), officials hoped cleanups would be more cohesive and consistent than they'd been in the past. Rather than dealing with camps in piecemeal fashion, they said, bureaus would be able to call on PPS to clear property and store valuables.
But the system has left a lot to be desired. A Mercury analysis of PPS invoices last year showed cleanup contractors often did little more than watch Multnomah County inmate crews pick up trash campers left behind, billing hundreds of dollars for work that, in some cases, took less than a half hour ["Someone's Cleaning Up..." News, Nov 5, 2014].
The work was made more questionable because police and officials from various city bureaus were sometimes also on site, meaning the contracted cleanup workers weren't even providing oversight for their $25.25 an hour minimum cost, and were only storing valuables at an old building on SW Barbur ["Off the Springwater," News, July 9, 2014]. That's a job city staffers could easily handle.
According to OMF estimates, the city's on track to pay PPS more than $61,000 for cleanup work by June 30. And now officials seem to be coming to the conclusion they can do without the services.
An OMF budget memo shows the city's considering ditching PPS in favor of using more inmate work crews. The bureau's proposal includes more than $201,000 for prisoners' help—an 80 percent increase over what the city expects to spend on work crews this year.
That money would pay for an additional crew "to help increase capacity to accommodate our customer needs," the memo says. "Customers," in this instance, are four bureaus—the Portland Water Bureau, Portland Bureau of Environmental Services, Portland Parks and Recreation, and Portland Bureau of Transportation—that manage property where the homeless are known to bed down.
"If this crew is secured," the memo says, "the need for the current contractor may be eliminated."
The city's not just wielding a bigger broom. OMF is also proposing stronger partnerships with social services like local outreach organization JOIN—even going so far as to offer physicians and "pet care," according to the memo.
Hales' office has also suggested increasing the number of formalized homeless "rest areas" in the city, and is hoping to relocate that model's biggest success, Right 2 Dream Too, near OMSI later this year.
All this, though, will play out later this summer. In coming weeks, cleanup contractors can expect a flurry of business as police try to clear out the "entrenched" camps that have taken root on the Eastbank Esplanade, near the dining hall of St. Francis of Assissi Catholic Church, and wherever else cops deem too filthy.
That effort's going to be partly about pushing social services on people, Simpson says, but it's mostly a bid to clean up sites that are often strewn with trash and may contain stolen property or drug paraphernalia. And it'll almost certainly include arrests. Since early last year, the police bureau has leveraged the state's law against "interfering with a peace officer" to arrest campers who don't heed warnings to move their camps.
"Our goal is not to arrest people," Simpson says. "It's not an effective way to address the problem."
One thing the sweeps won't do? Magically give people other options for housing. They'll be pushed farther east, or across the river, or out of town.
"Some of the people who have come here decide they don't have to follow any rules," Simpson says. "Maybe they'll decide that this isn't the place for them."