EVERY SUMMER, Seattle's On the Boards hosts the Northwest New Works Festival—a two-weekend showcase of "world-premiere contemporary performances by Northwest-based artists and ensembles." This year, Hand2Mouth ensemble member Jerry Tischleder was on the selection committee, helping to choose the festival's lineup—but despite the festival's deliberate inclusivity, only one artist from Portland applied, fellow Hand2Mouther Erin Leddy.
Hand2Mouth's ensemble members may be among a minority of Portland artists willing to make the trek up the I-5 corridor, but they're on a mission to cultivate a stronger relationship between the performance communities of Portland and Seattle. For the third year, Hand2Mouth is launching a local analogue to NW New Works—Risk/Reward, a curated festival that invites West Coast-based contemporary performance artists to share 20-minute excerpts of their works.
The idea, Tischleder explains, is to support local artists in the development of new work—to provide an incentive to produce audience-ready work while avoiding the "crushing administrative burden" that often keeps performers from putting on smaller shows (i.e., securing a venue, promoting the show). Additionally, Risk/Reward aims to expose Portland audiences and artists to like-minded Seattle performers. Throw a few kegs in the lobby, and have a schedule that includes eight artists over the course of one long afternoon, and Tischleder is hoping to create a true festival atmosphere.
This year's festival includes work from well-regarded local names like dance company Oslund + Co and Hand2Mouth, as well as an excerpt from Erin Leddy's solo show; dancer Katherine Longstreth and relative unknown Angela Fair (okay, I've never heard of her), a video artist whose show Tischleder describes as "a self-help guru sex-addict seminar, with a sexy pop aesthetic." From up North, shows from performer Paul Budraitis (with NW New Works Festival Director Sean Ryan) and Mike Pham (of Helsinki Syndrome). Seattle's Cherdonna & Lou Show, a "Seattle-based cross-dressing dance theater duo," round out the weekend.
The diverse group shares one thing: an interest in the future of contemporary performance. If that's not enough? "Every audience member will at least find one or two acts they fall in love with," promises Tischleder.
Sponsored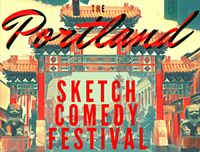 Sketch comedy troupes from all over N. America descend on The Siren Theater for 3 glorious nights.