For decades Portland has been known for printmaking; a series of shows this winter highlights that fact. Commercial and fine prints alike, this season offers the sense of a continuing legacy.
Sponsored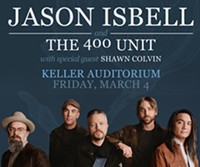 Jason Isbell has established himself as one of the most respected songwriters of his generation. Don't miss Jason Isbell and the 400 Unit, March 4th at Keller Auditorium!
Stumptown Printers (who've printed for countless musicians and organizations, including the Decemberists and Kimya Dawson) exhibit the first show in their present space with calling-card-sized pieces solicited from print shops around the globe. They're sweet images, mostly, and particularly good as a survey of presses: Flight 64, Em Space, and Tiger Food Press being some of the locals. Set inside beautifully crafted paper frames and propped on little shelves amid their busy workspace, there isn't a ton to see—it's a small show—but the names are a great roundup. If you've never been, Stumptown's gorgeous equipment alone makes the studio worth a stop. (They plan to hold more shows at the space, so keep an eye out.)
Also drawing creatives together is the annual Prints for PICA, December 17 at Lux (500 NW 14th). More than 100 artists will spend the day printing at PICA's studios, and at the end will sell their work.
After a hard hit by the recession, which resulted in closing the Haber Study Room to the public, the Portland Art Museum has begun efforts to revitalize their prints program, and are currently in the process of hiring a new prints curator (their third). Opening last week was Seven Decades Paperworks, a posthumous exhibition of work by Spaniard-cum-Portlander Manuel Izquierdo. The printwork isn't as strong or serious as the artist's mainstay—sculpture—but at the very least it fleshes out his practice. It's spontaneous and mostly abstract work, ranging from lithos and woodcuts to large-scale drawings.
Paperworks is the last of 2011's three shows organized in PAM's basement, the Vivian and Gordon Gilkey Center for Graphic Arts. (The institution began their considerable commitment to the print medium with the donation of approximately 10,000 works on paper by legendary print advocate Gordon Gilkey; in turn Gilkey became the first prints curator.) Beyond the basement show, the first floor has an impressive, comprehensive survey of Japanese work, The Artist's Touch, the Craftsman's Hand, which pulls from ukiyo-e to the 21st century (on display through January 22, 2012).
Further illustrating this point is Behind the Star, a group of prints at Pacific Northwest College of Art's Philip Feldman Gallery, which includes big contemporary names like Barbara Kruger, Robert Longo, Kara Walker, Donald Judd, and James Rosenquist. PNCA's printmaking chair Matthew Letzelter curated the show via the collection of the Oregonian Jordan D. Schnitzer, and master printer Maurice Sanchez (founder/owner of Derriere L'Etoile Studios in New York) executed all the pieces. They are impeccable prints, but also familiar.
The offset Longo lithograph "Arena Brains"—a diptych of a flame and a screaming mouth of crooked teeth—notably graces the cover of A Clockwork Orange. The artist's other prints, black-and-white images of splayed, business-attired male and female figures, mid air, are what he's best known for. To see them in person, at their massive scale, makes a definite impact, especially in light of the current social unrest. This can also be said of Kruger's series of nine lithos, the coolly loaded We Will No Longer Be Seen and Not Heard. The opportunity to see these works en masse is inspiring, and it locates Portland's print scene in its rightful, broader context.