PLAYWRIGHT ADAM BOCK lives in New York, but he beats a path to Portland as often as possible to work with Portland Center Stage. This Saturday, he'll present his latest play, A Life, at JAW: A Playwrights' Festival at PCS alongside new work from three other playwrights. We caught up with Bock—amid interruptions from hotel housekeeping—to talk about what he jokingly calls "playwright summer camp."
Sponsored
Sketch comedy troupes from all over N. America descend on The Siren Theater for 3 glorious nights.
---
A Life
"A couple of years ago, [PCS] commissioned me and Lauren Weedman to write plays," Bock says. "I'd already worked with Rose Riordan on a bunch of shows: The Thugs, The Receptionist, A Small Fire. I've had an ongoing relationship with PCS, and the show that I'm doing now is pretty much a result of that. It's called A Life, and basically it's the story of a man's life... but there's a big twist in the middle where—I don't want to give too much away—but he confronts mortality.
"I have a good friend, Jason Butler Harner, who's a wonderful actor, and I wanted to write him a piece," Bock continues. "I also wanted to try starting with a big long monologue, because I've never used that form before. You know, it's a meditation on life. How do we understand our own lives? How do you know when you're doing the right thing with your life, or if you're spending time on something that may not be important? When you're faced directly with death, how does your life come into sharper focus? I've been dealing with mortality in my family lately, and just more of those thoughts around me as I get older."
---
JAW
"It's my third time at JAW, and I love it! It's two weeks that are really centered on the playwright, where four plays get developed, leading up to a free reading on Saturday night, often in front of 300 or more people. I've found it to be a really warm audience that isn't judgmental, because you're giving them more than they paid for. People talk about process rather than product, but JAW really means it. I've given new pages to actors an hour before they go on, because it's more important to create the play than to perfect the reading. There's a real understanding of the value and fun of process.
"It's kind of unusual to have as big and literate an audience come to these readings," Bock continues. "Other places you get 50 people or so, and in New York, where I'm based, so often readings are auditions for productions—a way to trick a theater into doing your play rather than to actually see what's going on with the story. But it's really useful to a playwright to just see whether the play works or not, without having to 'pitch' it for production."
---
THE PLAYS
"Penny Penniston's Keys of the Kingdom deals with an evangelical Christian super-church; Mat Smart's The Royal Society of Antarctica is set in the Antarctic and has a vast feel to it, which is appropriate for the setting," says Bock. "Each of those has a cast of eight; it's always fun to see a large cast. And then Tommy Smith's db is about D.B. Cooper... but also about identity, and the mystery around identity.
"Then there are six Promising Playwrights [mentored at PCS' Visions and Voices playwriting program] who are in high school, who each get to do a 10-minute play. They got their casts yesterday and they're writing new plays this week. They're smiley, bright-eyed—and smart, I can tell already. They refer to me as an 'adult playwright' and I start to laugh; it implies something that I'm not sure is true. One thing I love about theater is it keeps you young. You never 'arrive.' Theater is process," Bock says.
"I don't want to give anything else away! I'm so like, 'Ooh, don't tell them anything, so it stays exciting in the moment when it happens.'"
Sponsored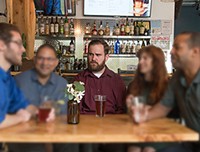 Adults aged 18-35 with good hearing will be paid for their time. Located at the Portland VA Medical Center