THE WEEDS GROW shoulder high in the vacant lot moldering on an entire city block at North Williams and Ivy, but change is coming: New Seasons is opening a 30,000-square-foot store on the site in 2013.
Sponsored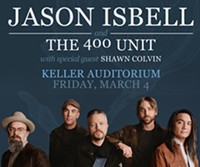 Jason Isbell has established himself as one of the most respected songwriters of his generation. Don't miss Jason Isbell and the 400 Unit, March 4th at Keller Auditorium!
The store, announced by the green-friendly chain last week, is big news in a neighborhood that's experienced rapid development over the past 20 years. While neighbors welcome the locally owned store—which is receiving no public money despite opening in a city-designated "food desert" and urban renewal area—some worry about its impact on traffic and the character of the neighborhood.
Last year, city plans to expand the bike lane on North Williams and install new crosswalks and signals spiraled into heated conversations over gentrification in what was once a predominantly African American neighborhood ["Concrete Change," News, June 16, 2011].
Midge Purcell, advocacy director at the Urban League of Portland (based on North Russell just a few blocks from the New Seasons site), says she's not worried about the grocery causing gentrification. It's already there.
"That horse has left the barn," she says. "New Seasons is indicative of the change that's been taking place over the last 20 years because of gentrification. It's a larger version of the kinds of businesses that have recently flourished on Williams."
North Williams is lined with a contrasting patchwork of hip new businesses and long-empty vacant lots—some of them scars of urban renewal projects. The construction of the I-5 freeway, Memorial Coliseum, and the failed expansion of Legacy Emanuel hospital leveled 1,550 homes and businesses in the mostly African American neighborhood. The New Seasons site has been vacant since 2000, when a bread factory in operation since 1915 closed. A planned mixed-use development saw the factory torn down in 2008, but then never materialized. In 10 years, the value of the property has doubled.
New Seasons CEO Lisa Sedlar says her company has been eyeing the site since 2008, in part because its administrative office is nearby on North Vancouver.
"We love this neighborhood, and we know there's not a grocery store in this neighborhood," says Sedlar, noting that the 150-employee store will make a major effort to hire within the community.
While the city is still studying the store's effect on traffic, Sedlar does not believe the branch will draw too many more cars to the corridor. A third of shoppers get to the comparable SE Hawthorne New Seasons without a car, she says. "The rooftop parking we opened there is mostly empty."
The current North Williams plan calls for a one-story store with 60 parking spots. The city and New Seasons are still researching the store's projected impact on traffic.
Paige Coleman, director of the Northeast Coalition of Neighborhoods, says New Seasons has so far been open minded, listening to concerns that the store will be too expensive for area residents. A few years ago, the neighborhood group pioneered a system to match money spent by food stamp users at farmers' markets, and members are talking with New Seasons about a similar "food accessibility" program.
"One of the criticisms we've heard is if the full range of our community members can afford to shop at New Seasons," says Coleman. "They're really interested in being a good neighbor."