I'VE LOST TRACK of how many emails and voicemails I've received from Pelú Theatre Artistic Director CarlosAlexis Cruz. Unfailingly polite and doggedly persistent, Cruz has been after me for months: Preview the show. Come see the show. Review the show. Well, it worked. Cruz is apparently tireless—in addition to acting as PR flack for Pelú, he stars in and directs the company's debut "circus theater spectacle," A Suicide Note from a Cockroach.
Cockroach premiered in July as a one-act that, in a review in this paper, Jane Carlen called "one of the liveliest, most original, imaginative, and hilarious shows I've seen in a long time." Now the show's been expanded to a full-length production, though "full length" in this case is a scant 60 minutes.
Cockroach is such a physical, movement-based experience that the plot feels almost incidental: A cockroach, living in Spanish Harlem, retells the story of his ill-fated life. He can't keep a job, and he's a widower seven times over. Pedro, played by the hard-working Cruz, narrates his tragic past as a four-person ensemble energetically reprises the action via acrobatics, pantomime, and vividly drawn characters.
Mayra Acevedo and Sarah Farrell swap outfits and attitudes to represent the seven very different women Pedro marries. Each wife has a peculiar quirk, the significance of which were largely lost on me: One wife is a kleptomaniac (driven to crime in her efforts to keep pace with American consumerism?); one is a German who's using Pedro to get American citizenship (some oblique commentary on immigration laws?); one is a prostitute (this one I don't get at all). Farrell is stupendous as the token white girl. She's got precise comedic physicality, versatile looks, and a high-energy goofiness—slapstick is not as easy as she makes it look. (This hyperbolic praise of Farrell should in no way be read as a tacit criticism of Acevedo, who's also quite good.)
The show's strength is in its good-humored energy. It's weaknesses? Rapid-fire Spanish and English make the story at times hard to follow, and the central metaphor, in which the suicidal cockroach stands in for the impoverished Latino, is confusingly obscured in Pedro's parade of wives. The marriage of theater and circus, as well as the story's Latino focus, should have a broad appeal.
Sponsored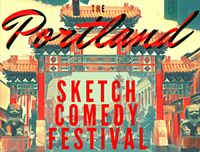 Sketch comedy troupes from all over N. America descend on The Siren Theater for 3 glorious nights.