THERE ARE A FEW CLICHÉS Portland has truly earned: We keep it weird, and we love us some brunch. Yet until recently, with few exceptions, there wasn't much in the way of quirky, exotic mid-morning indulgence.
Over the last year, a bumper crop of international and offbeat brunches has arrived to save us from endless variations on biscuits and gravy—we're talking exotic day-drinking around town, sensational Vietnamese Cajun fusion, and more Middle Eastern options than you can shake a pita at.
Sponsored
Win a behind-the-scenes tour of our kitchen, see how we make our artisan edibles, and get some swag.
We'll walk you through the necessity of brunch congee at Smallwares (an unctuous rice porridge with egg yolk, crunchy granola, and sweet Chinese sausage), make the case for indulging in pho before noon, and tell you how Oso Market can take you around the world from a corner on SE Grand.
But we're nowhere without our roots, so we've also got a guide to our favorite old-timey breakfast joints, where hashbrowns are always crisp and pancakes are bigger than your face.
Finally, in a sea of bacon and eggs, we've scouted the best refuges for a hungover vegan in search of morning sanctuary and sustenance. Go forth, grab a fork—or chopsticks, or a spoon. Brunch is only getting better. ANDREA DAMEWOOD
Accanto
2838 SE Belmont
As an Italian brunch adventure, Accanto gets a few points. The restaurant is light and airy, with sunny outdoor seating and big windows—like Tuscany, but with even more white women trying to find themselves. On my late Saturday morning visit, there was no apparent wait—I had reservations, which I'd recommend. And the cocktails were yummy and pleasing to this day-drinker. If this were an authentic Italian experience, I'd like to believe that the people of Italy wouldn't look down their Roman noses at visitors who weren't wearing hand-cobbled artisanal loafers—not so in New Portland, where cut-offs and a t-shirt earn you disdainful up-and-down appraisals from the coiffed diners in Accanto's front windows. (Don't worry, Burnside 26'ers, they'll seat us by the kitchen.) But you can't blame a restaurant for its clientele (or can you?).
While Accanto nails the brunch cocktails—try the Morning-Groni ($7) and the Chartreuse-forward First Word ($8)—our food orders weren't quite as successful. The ricotta doughnuts ($6) were a good vehicle for the lemon curd (my weakness), but the starters came out alongside our main courses, so it was hard to stuff it all in. The duck confit hash ($15) with poached eggs, cherries, potatoes, and hazelnuts should have been a beautiful Italian boot to the face, yet the sum of its tasty parts was bland. Salt helped. The pork biscuit was a finely sauced, cheesy, porky thing, but the meat was strangely flavorless—it couldn't quite justify its $14 existence. While Accanto's menu is evocative of my favorite brunch at (now sadly brunch-busy) Woodsman Tavern, it lacks a certain dolce vita. It's certainly not bad, but the food felt one to two bucks too expensive. Go for the cocktails and sunshine, and if you (unlike me) are prone to doing your hair in the morning, this brunch spot might suit you just fine. COURTNEY FERGUSON
Brunch hours: Sat-Sun 10 am-2 pm, cocktails, beer, and wine, $$$
---
Autentica
5507 NE 30th
Nothing says Great Brunch Spot like a server asking which of six ice-cold Mexican beers you'd like in your michelada. It's the same as asking someone if they like Eric Roberts or Richard Gere better: It's objectively the exact same thing, but tempers will run high in the resulting argument. (The correct answers are "Bohemia pilsner" and "Trick question: Bill Pullman.")
It's the kind of thing Oswaldo Bibiano and the crew at Autentica care about: representing traditional Mexican food and drink options beyond the tacos and Tecate we know and love. Familiar Mexican leftover fare like chilaquiles rojos ($14)—tortillas soaked in a spritely, spicy chile sauce and served with beef or eggs (don't see that red meat and sleep on the egg option, carnivores—it's breakfast, after all)—can hardly be beat, but for sheer drama, the huevos ahogados ($10) can't be. First of all, it means "drowned eggs," which is a goddamn dark way to start your Sunday. With two poached eggs and a big hunk of chicken thigh floating in a red broth, it's slightly spicy but herbal and bright from chilies, epazote, and lime; it basically amounts to an early morning soup. If you need a little more substance alongside your breakfast broth, grab a killer sope or two ($4) to soak it up. Use the hot sauces—sparingly, if you're sensitive. That dark chile sauce isn't messing around.
With virtually no lines and a beautiful, vibrantly blue patio hidden out back, Autentica is a premier Northeast Portland brunch spot if you're feeling up for something beyond pancakes and bacon. There's even a steak and eggs option if your stubborn father-in-law can't stomach all that Spanish on the menu. THOMAS ROSS
Brunch hours: Sat-Sun 10 am-2 pm, cocktails, beer, and wine, $$
---
Boke Bowl West
1200 NW 18th
Boke Bowl West is a bright, clean, open space, and on the day I went we didn't have to wait at all. The service was quick and friendly, and my server made a mean Bloody Mary. One of my favorite things about Bloodys are the pickled garnishes, and this one had plenty, with all the veggies pickled in-house (including green papaya—yum!). Brunch cocktails are $1 off regular price, their mimosas (called Boke Buzz) are $2 off, and they serve $1 cans of Oly. Score.
Being a dim sum virgin, I went a little nuts trying several things and got four small plates (they're $3.75 each, so not real spendy, even if you get four of them), which was way more than I needed to eat. Keep in mind that their dim sum menu changes, and they use seasonally available ingredients, so don't be surprised if the exact dish I describe isn't always available. My favorite, hands down, were the five-spice duck wontons. Granted, I am a sucker for duck, but these were delicious. The spice wasn't overpowering, and the duck was tender without being greasy. I definitely recommend them.
I also loved the tapioca fritters, which are vegan and were made with mung beans and corn. They're spicy, so watch out, but the taste was rich and they were perfectly crispy on the outside and soft on the inside. Finally, I tried both the vegan and the ham daikon cakes, so I could compare the two. The vegan cakes were just alright. The flavor was good, and they were cooked well, but the inside was a little gummy. The ham, on the other hand, was delicious, and made my nontraditional brunch seem a little more like a meal. SHELBY R. KING
Brunch hours: Sat-Sun 11 am-3 pm, cocktails, beer, and wine, $$
---
Broder
2508 SE Clinton
My best friend in second grade had a Swedish mother. She was definitely glamorous: Her hair was spiked and dyed, and she smoked in the house, and her accent would get thicker whenever she grew angry with us troublemaking kids—which was all the time. Oh, and she was a terrific cook.
Not that I appreciated it. My favorite foods at that age were Kraft macaroni and cheese, Nilla wafers, and English muffin pizzas. I'd spend the night over at my friend's almost every weekend, and she'd whip up these exotic Swedish dinners, as her gracious family oohed and aahed appreciatively. Meanwhile, I'd sit at the far edge of the kitchen table, poking at her strange-looking dishes with her immaculately designed Scandinavian flatware, wrinkling my nose at the very notion of flavor. Dill? Caraway? Gravlax? Were these even foods? Are these things even meatballs?
I drove her crazy.
Hopefully I've atoned for my childhood stupidity by becoming obsessed with Broder's breakfast bords ($7-13). They're literally served on wooden boards, with all the food groups heartily embraced. My favorite's the Solstice bord, which comes with ham, fruit, assorted cheeses, a yogurt-and-granola parfait, a tender soft-boiled egg, buttered brown bread, and more. It's enough sustenance to fuel a voyage across the Baltic Sea; to snowshoe up to the Arctic Circle; to provide the courage to listen to Rednex. The Swedish café—which remains one of the most competitive spots in Portland to get brunch, so much so that they've added a second location, Broder Nord—has struck a balance between Nordic attentiveness and casual informality, giving every tiny detail equal weight. (The spoon for your egg is teeny-tiny and fits perfectly! The cream for your coffee is heated!)
If a bord is not in your morning forecast, the baked egg scrambles and Swedish hash are other worthwhile specialties. Also, get some aebleskiver—spheroid "pancakes" with lemon curd and amazing lingonberry jam ($10). I bet even my second-grade self would have loved them. NED LANNAMANN
Brunch hours: daily 8 am-3 pm, cocktails, beer, and wine, $$
---
Café Castagna
1752 SE Hawthorne
A longtime favorite fine-casual dining spot, Café Castagna takes things in a completely unexpected direction for their Sunday brunch. While the classic frittata and eggs benny make appearances, there's also a French-Arab component that could seem a little out of left field if it weren't executed so well. Shakshuka ($12), with or without the addition of sujuk sausage ($2), is a warm dish of eggs baked in spicy and rich stewed chilies and tomatoes, with cool crumbled feta to provide tang and balance. For those craving something fried/bready, the flaky, layered malawach ($11) doesn't disappoint. A trio of condiments made in-house—fiery harissa, herbal za'atar, and a loose cilantro-mint pesto-like zhoug—also accompany more Western fare, like the delicious frittata ($11) made with seasonal vegetables (green beans and grilled fresh corn with basil or grilled zucchini, spring onion, and mint were the offerings during a recent visit), or the eggs benedict ($16) made with house-cured lamb ham (hamb?).
There are several vegetarian-friendly starters ranging from house-made pita ($2) and pickles ($3) to an inexplicably expensive butter lettuce ($12), but the doughnuts with seasonal fruit compote (this time, rhubarb; $8) are the real stars: soft pillows of warm, airy dough, tossed in glittering cardamom sugar. As at Levant (a restaurant whose focus and similar brunch menu make it difficult to avoid comparisons), $20 a head will let the chef take the reins for your table. If it's all just too twee (say, for a picky visiting relative), the duo of sunnyside-up eggs with lamb ham and fried potatoes ($14) will have your back. The outdoor patio is shaded by umbrellas and the elms of Ladd's Addition, and the interior is cool and full of kitchen noise bouncing off concrete; best of all, both options came without a wait. HEATHER ARNDT ANDERSON
Brunch hours: Sun 10 am-2 pm, cocktails, beer, and wine, $$$
---
Ha & VL
2738 SE 82nd
Ha & VL is breakfast food mainly by necessity: This shit's so good it sells out before lunch. It's also a reflection of how soups are slurped as warm morning pick-me-ups in Vietnam, a salty nourishment that will keep you going all day, even while you dream of getting your mitts on more of this incredibly tasty broth.
For the uninitiated, this tiny, shabby-chic spot in the Wing Ming marketplace serves two soups ($9.50) every day of the week, except Tuesdays, on a rotating basis—let's just say I've played hooky on more than one occasion in my quest to taste them all (but never at my current job, boss, swearsies!).
On a Wednesday in April, I had a chicken curry soup, with bone-in chunks of thigh meat, while Thursdays bring the legendary snail soup, with snail pancakes (no shells involved) sharing space with tomatoes, sliced pork, and tofu in a light pork broth.
My favorites include Sunday's mi quang, a yellow wonder soup loaded with shrimp cakes and shrimp, pork ribs, pork meatloaf, sliced pork, peanuts, and a sesame rice cracker in (guess what?) pork broth (it runs $10.50 for all this goodness). This soup is not kosher, but it's damn near a religion in my book. Also worth a nibble is Monday's crab flake soup, a bright pink viscous broth that holds crab flakes, shrimp, straw mushrooms, and quail eggs almost as well as an aspic. If you've gotten this far without making Ha & VL your next destination, I don't know how to help you. AD
Brunch hours: Wed-Mon opens at 8 am, usually sells out by noon or 1 pm, $$
---
La Panza Café
2425 SE 26th
It feels weird to write this, but there's something going on in New Mexico and Wisconsin. Out of the many-provinced pastiche flowing into Portland on a daily basis, people from these states seem most willing to throw down for their homelands—via tattoos, bad beer preferences, and, in the case of Southeast Portland's La Panza Café, everything.
From the red and green chilies imported from the edge of the Rio Grande to the Zia sun symbol—that pleasant insignia on the New Mexican flag—tattooed on the calf of your waitress, to the desert temps fondly recalled by its lack of AC, you can brunch like Walter White right here in Portland!
Break brunch convention with chips and a trio of compelling salsas ($5.95) while you plot your main course. New Mexican food is Mexican-influenced, of course (yes, I know it's distinct, New Mexicans!), meaning you're dealing with variations on a theme: tortillas, eggs, beans, chile (a must)—in some configuration on a plate. But the differences here are largely in form alone.
Each of three entrées we tried (blue corn enchiladas, $11.50; huevos divorciados, $10.50; huevos rancheros, $10.25) were the same essential dish, and bland enough (yes, even with the essential chile) that side orders of salty chorizo were necessary to enliven things. No one was blown away, but all agreed the food tasted clean, and the plates were compelling enough to come back for lunch.
Drinks are strong, though not cheap. Venture past the brunch selection and grab a refreshing La Paloma (tequila, grapefruit soda, lime; $8). Or throw away brunch pretensions entirely and order the frozen prickly pear margarita ($7).
Most importantly, cherish the fact that you're brunching near hectic SE Division with minimal wait, and nary a cactus in sight. DIRK VANDERHART
Brunch hours: Mon-Fri 11 am-2:30 pm, Sat-Sun 9 am-2:30 pm, cocktails, beer, and wine, $$
---
Levant
2448 E Burnside
This cool and airy "French-Arabesque" restaurant places a welcome focus on the "Arabesque" for its brunches. Levantine and Middle Eastern breakfasts traditionally range from refreshing cucumber-tomato salads and flatbreads to spicy stews with eggs and sausages, and one may partake of everything in between with Levant's weekend brunch menu. The red shakshuka ($12) is spicy and complex, a skillet of eggs baked soft in a heady stew of peppers, tomatoes, and crumbled merguez sausage, with a buttery wedge of toast for dipping. The green (vegetarian) counterpart is a bright tomatillo salsa tempered with spinach and feta ($12). The national dish of Egypt, ful medames ($10), is a humble and satisfying bowl of stewed fava beans with a generous sprinkling of a fresh salad of tomatoes, onions, and herbs, to provide acidity and cut through the earthiness, with a pillowy flatbread for scooping. The addition of the nutty-creamy hamine egg is a nice touch, slow-simmered in onion skin tea until the whites themselves are colored a rich brown. If you've had too much fun the night prior, pony up the extra $2.50 to add restorative grilled sujuk sausage or thinly sliced, cured basturma. The chocolate urfa-filled croissant ($3) and a Levantine coffee (coffee with anise-flavored raki liqueur, dry curacao, and amaretto, topped with whipped cream; $11) are an ideal cap to the meal.
If you're wont to become paralyzed by too many choices, opt for the $20 omakase, and get a little of everything. The only catch is that the whole table has to be on board, which makes it less ideal if members of your party have dietary restrictions. Fortunately, without long lines guilting you into turning your table, you'll feel comfortable staying a while. HAA
Brunch hours: Sat-Sun 10 am-2 pm, cocktails, beer, and wine, $$$
---
Oso Market CLOSED
726 SE Grand
The theme of Oso Market's monthly Adventure Brunch literally scours the earth for inspiration. Each first-weekend-of-the-month edition takes its point of focus from the culinary traditions of a different country. In June, for instance, they chose Cuba, serving up fried eggs alongside plantains, beans, and rice ($8), braised pork with yucca ($14), and pollo guisado, a traditional chicken stew ($12). Oso is primarily a drinks-focused spot, mind you, so don't miss out on their beverage adventures while you're at it—the Cuban-themed Hemingway Daiquiri ($10, with rum, lime, grapefruit, and maraschino liqueur) was the highlight of a solid menu. Also, I know it's weird for many people to eat dessert after brunch—I'm one of you—but the recently added house-made ice cream ($8) at Oso really should not be skipped during any visit to the establishment. They have a transcendent combo of Bee Local honey and Jacobsen's salt that will be, should be, and needs to be available always, plus a rotating seasonal—on my visit, pickled strawberry! I would even go so far as to say that it's worth ordering some after August's adventure brunch: This time they're going to China! (Note: Oso has a regular brunch menu on non-adventure weekends, organized around three of their favorite countries: France, Spain, and America.) Another bonus: Perhaps because the chicly appointed bottle shop/fancy grocery is primarily known as a wine resource and evening destination, there's hardly ever a wait. MARJORIE SKINNER
Brunch hours: Sat-Sun 11 am-3 pm, cocktails, beer, and wine, $$
---
Pho Oregon
2518 NE 82nd
Despite the fact that pho is probably the best hangover cure known to mankind, it can be difficult to find before lunchtime at the city's innermost destinations. Head out to 82nd's Pho Oregon, however, and you'll find their wide menu of pho combinations ($6.50-7.50, with 22 varieties covering everything from vegetarian to pizzle) available as early as 8:30 am, seven days a week. The pho here is plentiful, fresh, and some of the best in town, but I'm going to make the case for venturing off the beaten path. Specifically, you guys, I'm pretty sure I've discovered the cure for the common cold, and it can be found under the number 24 ($7.50) at this restaurant. It's a dense egg noodle soup featuring the works: shrimp, pork (and pork liver), and fish balls. Add to that the standard plate of vegetal accompaniment that comes with the pho (your sprouts, your lime, your cilantro, and your jalapeño), and you have a healing, nutrition-packed, warming meal that will get you through cold and/or dehydrated times like a frigging miracle. If you have room for it, top it off with a delicious avocado smoothie ($3.25 and closer to a milkshake), too—I seriously doubt you'll regret it. MS
Brunch hours are just regular hours here: daily 8:30 am-8:30 pm, beer and wine, $
---
Smallwares
4605 NE Fremont
Mad props to a place that doesn't even think about getting you out of bed before 11 am. Smallwares, Johanna Ware's underappreciated "inauthentic" Asian spot on NE Fremont, just gets it. Her sriracha mayo chicken lollipops have inspired copycats across town, and the fried kale swimming in fish sauce is the stuff of drinking food legend. So when Ware announced last November that she was starting a weekend-only brunch, it wasn't a shock to find that her mid-morning meal is a perfect bookend to a long night out.
You may think hashbrowns and buttery biscuits are the surefire hangover cure, but your throbbing head is dead wrong. Instead, recharge your system with the salty and protein-laden congee ($10). It's been yanked from a sad dim sum steamer tray and topped with sweet Chinese sausage, scallion, and crunchy granola with a bright egg yolk nestled in the middle. It's a far cry from the oft-alienating glop you'll see elsewhere. Sichuan bacon ($4) is a worthy investment, as everyone's favorite breakfast food is cooked down in spicy-sweet sauce.
Smallwares hasn't drawn massive crowds for brunch yet, so settle in with a spicy Bloody Mary without a wait (reservations also available). And even better for your addled post-Mezcal melon: There's nary a chocolate-chip pancake in sight, so there will be no screaming toddlers. Salvation, thy name is Smallwares. AD
Brunch hours: Sat-Sun 11 am-3 pm, cocktails, beer, and wine, $$
---
Tapalaya 28 NE 28th
There's a lazy stretch of Louisiana highway outside New Orleans lined with fishing shacks jacked up on stilts to avoid the hurricane floodwaters. On the other side? Strip malls chock-a-block with Vietnamese jewelers, banh mi shacks, and pho.
Thousands of Vietnamese refugees fled the war and settled in NOLA in the '70s, and over the last few decades they've blended their already French-inspired Southeast Asian cuisine with the storied Cajun flavors in America's Southeast. The results are, naturally, worth a plane ticket—especially because until about six months ago, it wasn't a thing in Portland.
But when Tapalaya—a previously middling-at-best Cajun restaurant—instituted New Orleans-born Anh Luu last year as head chef, she infused the menu of fried oysters and other standards with fish sauce, lemongrass, and coconut. The result is a brunch worth waiting for (which will happen, thanks to all the publicity it's received). Don't miss the coconut pork rice bowl ($9), tender pork and a fried egg over sweet rice made rich when you pierce the egg and let it ooze into the mix. The pork shares space comfortably with a solid banh mi ($6/$10; add egg for $2), and Creole favorites like fried chicken and beignets with bourbon syrup ($8) and head-on shrimp and grits ($12).
Take a moment to appreciate your blackened tuna hash ($12), spiked with lemongrass pesto and a poached egg—your brunch made stops in Paris, Hanoi, and New Orleans on its way to your mouth. AD
Brunch hours: Sat-Sun 9 am-3 pm, cocktails, beer, and wine, $$
---
Tasty n Sons
3808 N Williams
Tasty n Sons is the reigning King (n Princes?) of the Portland everyday brunch scene, and with the advent of Tasty n Alder, the empire has only grown. A remodel and slight menu redesign last year only further cemented Tasty n Sons as an all-day food destination. You might wait a while for brunch on the weekends, but Tasty is a casual killer during the week—plus, a Bloody Mary or a glass of bubbles always tastes better when you know you'll chase it with a full workday.
The menu, split—sometimes arbitrarily—into bigger, smaller, sides, salads, and boards is pure Tasty n Whatever: from North African sausage and shakshuka (a baked mix of eggs, tomatoes, and chilies; $12) to steak and eggs (cheesy eggs and a generous cut of steak over a hidden bed of sweet, beautiful corn cake; $16). There's also chicken-fried chicken (with a surprisingly delicate venison gravy; $14)—plus daily specials (chilaquiles Thursdays!) and signature small bites, like a $2 chocolate potato doughnut (do it!) and baked cherries with taleggio and toast, served in a ramekin that might as well be Olympic pool-sized ($8).
You can't go wrong, so go hard and load up your table with plates of various sizes. Better yet, stake out a stretch of streetside counter and feel the breeze as you enjoy the sights and sounds of North Williams. But go now, before some new condo development casts a permanent shadow on Tasty's block. TR
Brunch hours: daily 9 am-2:30 pm, beer, wine, and cocktails, $$$
---
Verde Cocina en la Perla
524 NW 14th
For those who want a little extra "fresh" with their brunching activities, the highly regarded Verde Cocina has the recipe you're looking for. With locations in Hillsdale as well as Sylvan Highlands and various farmers' markets, the Pearl location is the quickest way to get your vegetable brunch fix. For the newbies, Chef Noe Garnica (originally hailing from Guanajuato, Mexico) and his wife, Anna, wanted to bring the food prepared from the home gardens of their youth to the menu. Hence, all the dishes at Verde Cocina come heaped with super-fresh local produce—though it doesn't in the least detract from the Mexican delights beneath
To beat the brunch crowds, hop into Verde Cocina right at when they open on the weekends, and settle into their comfortable, wood-heavy dining room for a breakfast of fresh heirloom eggs that headline such dishes as huevos rancheros (layered with white bean mash, ranchero salsa, local cotija-style cheese, and loads of vegetables; $10), chilaquiles (scrambled eggs mixed with homemade tortillas and a veggie medley; $10), and my personal fave, the Buenos Dias Breakfast ($12). Pairing scrambled eggs with kale, onions, carrots, beans, zucchini, and more (as well as two hefty handmade corn tortillas and a mild verde sauce), this heaping plate of yum is lifted into the stratosphere with thick chopped pieces of caramelized bacon on top. (Yep, and it's just as good as it sounds.)
Verde Cocina also doesn't suffer in the libations department, and offers an extremely tempting menu of margaritas and various top-notch tequilas—a liquor that tends to make me just as fresh as the vegetables. WM. STEVEN HUMPHREY
Brunch hours: Mon-Fri 11 am-3 pm, Sat-Sun 10 am-3 pm, beer, wine, and cocktails, $$$
---
Ya Hala
8005 SE Stark
I'm a sucker for drawn-out, ritualistic coffee consumption (think slo-o-o-o-o-owly pouring steamed milk and espresso—out of separate containers—into a cup, and taking bird-sized sips 'til it's all gone), so the Turkish coffee setup ($3) at Lebanese café Ya Hala is a beautiful, delicate thing. You get cream, sugar, and a Turkish coffee pot full of extra-strong stuff, then mix it to your liking in a tiny cup and drink it while you decide what to order.
Hands down, here's what you should order: the shakshuka ($13; best shared between two people). The North African breakfast classic, eggs poached in tomato sauce, is excellent at Ya Hala—the sauce is more stew-like, and the addition of mint and a wonderfully sharp cheese crumble keeps it from being too basic. As with your slow Turkish coffee-drinking, this is a dish best consumed slowly, on bits of the freshly baked bread that comes with it. "I wish I had more room in my gut so I could eat the shakshuka all day," said my dining companion. I could not have agreed more.
Ya Hala's sweet selections are outstanding, too: If you go, you definitely need to order the sfoof ($5), a pleasantly dense, bright yellow slab of pastry, with a super-sweet anise flavor balanced out by turmeric (hence the bright yellow) and cardamom icing. There's also a brioche ($5) that tastes like the best cinnamon roll of all time. And perhaps it's because Ya Hala's off Portland's main brunch drags, but the sweltering weekend morning I went, the place was nearly empty, and pleasantly cool, with friendly servers who answered my monosyllabic, heat-exhaustion-warped questions with patience and solid recommendations. I was also seated immediately, which I can guarantee was not the case across town. Elsewhere, I would have been sweating in a line, in my pre-coffee/peak-crabby state, then rushing through a meal so that other bleary-eyed morning diners could have a chance to eat. Not so at Ya Hala. Some things—like elaborate coffee prep—simply cannot be rushed. MEGAN BURBANK
Brunch hours: Sat-Sun 9 am-2 pm, cocktails, $$$
---
Read more brunch articles:
Adventure Brunches
Bottoms Up at Sunup
Old-Timey Brunches
Vegan Brunches
Sponsored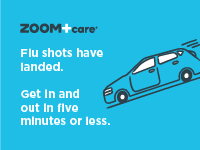 ZOOM+Care makes flu shots easy and safe. Schedule ahead, skip the line—get in and out in 5 minutes.