THURS NOV 5
Alien Boy w/Drunken Palms, Little Star; Winch Hall at Reed College, 3203 SE Woodstock
George Harrison reportedly wrote most of his legendary triple LP, All Things Must Pass, while he was still in the Beatles—a story that typifies the secretly prolific sideperson mythos. While the comparison is extreme, Sonia Weber has been one of the most sought-after Portland musicians in the punk community for almost a decade (even serving a brief stint in Ben Barnett's emo vanity project Kind of Like Spitting in 2012). But she hadn't really stepped up to the mic prior to the formation of her new band, Alien Boy—a noisey, vaguely gothic take on early '00s pop-punk. The band's debut, Never Getting Over It, is so confidently realized and covers such a large sonic palette that it's hard to believe the band is so young. Live, Weber is joined by Our First Brains bandmates Derek McNeil on drums and Caleb Misclevitz on guitar, in addition to former Sister Palace drummer (and Mercury contributor) Mac Pogue on bass. Tonight is their tape release and tour kick-off show; they also play Sunday, November 8, at the Know (see Up & Coming).
MON NOV 9
Trey Anastasio Band; Crystal Ballroom, 1332 W Burnside
The Grateful Dead are one of the most misunderstood bands in the annals of rock 'n' roll. It's safe to assume that anyone who impulsively dismisses the group as "jam band shit" has never listened to American Beauty, a gorgeous country-rock record that has more in common with roots bands like Little Feat and the Band than virtuosic wanksters of the '70s—it's a record so unconditionally great that even people like me who are afraid of weed can enjoy it. So, to every misguided Grateful Dead hater: Kindly redirect all your disdain at Phish. They are the band you think the Grateful Dead is. In addition to being wholly boring and incapable of writing a good song, Phish foster a fanbase known as "Wookies"—aggressive bros masquerading as neo-hippies who fall somewhere in between Maggots and Juggalos on the list of scariest music subcultures. Tonight, Trey Anastasio—Phish's lead guitarist and creative helmsman, easily identifiable by his John-Sebastian-from-hell appearance, patchouli waft, and signature phallus-y guitar—graces our fair city in support of new album Paper Wheels. I'm no psychic, but I'm pretty sure it's gonna suck.
TUES NOV 10
The Front Bottoms w/the Smith Street Band, Elvis Depressedly; Hawthorne Theatre, 507 SE César E. Chávez
The best moments of the Front Bottoms' previous full-length, 2013's Talon of the Hawk, sounded like a Weakerthans/Mountain Goats hybrid, bringing to mind the hooky pop-rock of the former with the overtly specific story-yelling of the latter. The group's new record, Back on Top, doesn't really mess with the formula, but it doesn't need to: Songs like opener "Motorcycle" and the anthemic "2YL" are among their best compositions, which revere and evoke a particular sect of pop-punk (Supers -chunk and -drag; the Smoking Popes; the aforementioned bands) without ever seeming too derivative.
Sponsored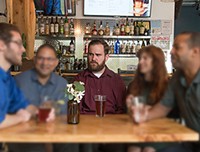 Adults aged 18-35 with good hearing will be paid for their time. Located at the Portland VA Medical Center