SUN JAN 31
Dowsing, Special Explosion w/Lee Corey Oswald, Alien Boy, Little Star; Analog Café, 720 SE Hawthorne
This is the first truly stacked all-ages bill of the year. Chicago's Dowsing makes mild-mannered, mid-tempo punk, and Seattle's Special Explosion released one of the best and most underrated records of 2014, The Art of Mothering—a slab of indelible, angular emo that recalls Kind of Like Spitting and Keep It Like a Secret-era Built to Spill. Representing the home court are power-pop mainstays Lee Corey Oswald and up-and-comers Alien Boy, who have managed to gracefully synthesize Morrissey with early-'00s budget-bin pop-punk.
TUES FEB 2
AC/DC; Tacoma Dome, 2727 East D, Tacoma, Washington
Except for maybe Cheap Trick, AC/DC just might have been the best classic-rock band to hit its stride in the mid- to late-'70s... but that also isn't saying much. By 1975, the year AC/DC released their debut, High Voltage, in their native Australia, Led Zeppelin were drying up, and second-rate residue from the prog-rock years—bands like Kansas, Styx, Rush, and Boston—monopolized the airwaves. High Voltage is, by comparison, punk rock: a trashy, gleefully stupid love letter to bluesy (shudder) rock 'n' roll.
AC/DC may have some incredibly inane songs in their catalog, but you can't accuse them of being dishonest. Early vocalist Bon Scott—the sole member of the 33 Club—sang pretty much exclusively about fucking and getting fucked up, two fields in which he deserved an honorary doctorate. The group eschewed aimless virtuosity, Tolkien worship, and UFOs on their album covers in exchange for boorish metaphors and big, dumb riffs, and that's always admirable.
Unless you're in eighth grade, AC/DC has absolutely no social cachet whatsoever. Balding record store clerks will have you believe that the band effectively ended when Scott died in 1980 (the death certificate classified it as "death by misadventure"). But Back in Black, the group's first post-Scott release, is the only album the band ever produced without a handful of duds, and songs like the title track and "You Shook Me All Night Long" rank among the best rock songs ever penned—despite the fact that they've since been played to death.
It almost seems pointless mentioning that the group have a new album, 2014's Rock or Bust, because let's get real—this is a band that subsists entirely off its legacy (though the new record certainly isn't as bad as, say, Van Halen's embarrassing 2012 comeback). Tonight the band plays with a slightly castrated lineup: Malcolm Young has a variety of health issues preventing him from touring and long-time drummer Phil Rudd was asked politely to leave the group after he tried to kill somebody at the end of 2014. But guitarist Angus Young and singer Brian Johnson (and oxygen tank) are still in tow. The band isn't playing Portland tonight—apparently we're not good enough—but it's probably worth the drive to Tacoma. Because, you know, they might die soon.
Sponsored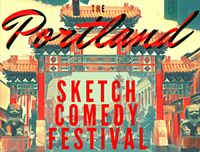 Sketch comedy troupes from all over N. America descend on The Siren Theater for 3 glorious nights.