WED FEB 10
Mysterious Skin w/Spetsnaz, Jaeng, Sweats; Black Water Bar, 835 NE Broadway
Sponsored
Sketch comedy troupes from all over N. America descend on The Siren Theater for 3 glorious nights.
Winter Tour Tape, the end-of-2014 EP from Seattle hardcore band Mysterious Skin, was an explosive and straightforward wedge of reckless punk. It balanced a very real apathy ("Stop Smiling," "Who Cares?") with a sense of humor sorely lacking from much of the contemporary modern hardcore oeuvre (lumbering highlight "Piss in the Sink"). The group's new EP, Hard Grip, ups the ante considerably (the breakneck ferocity of "Visions of Taste" and "Nearly Empty") without forsaking the dewy-eyed charm of previous releases—and thank god for that.
THURS FEB 11
Second to Last w/Chasing Morgan, Noise Brigade, One Day Forecast, Four Young Strangers; Analog Café, 720 SE Hawthorne
With the '90s revival in full swing, increasingly fewer bands like Second to Last are playing the mall-core circuit. Double bass, half-time, snake bites, and hair straighteners are out, while Weezer is in (but only those first two albums, of course).
In a blogosphere where pop-punk finally has some cultural value (blame Joyce Manor) and bands that sounded like Bayside two years ago are now suddenly pretending that Archers of Loaf and Superchunk are their biggest influences, Second to Last's new EP, Bedroom Broadcast, is something of a palate cleanser, a callback to recent history when every moderately successful pop-punk band just sounded like the Get Up Kids with the From First to Last drummer. The EP's terrific opener, "Dead," is basically a never-ending chorus replete with New Found Glory-esque backup vocals and aggrieved underdog whining of the highest and catchiest order—the very things that drew us to this style of music in the first place. Maybe they'll inspire bands to start being themselves again.
FRI FEB 12
Post Moves w/Twelve Gardens, Sun's Out Bummed Out; Mother Foucault's Bookshop, 523 SE Morrison
A year ago, Portland band Post Moves released a great and surprisingly under-discussed mini-LP in Reset Father Time. It's a collection of dark, smart, featherweight pop songs that sound like Mac DeMarco without the ironic, cool-guy sleight, or a synthesis of '60s British forebears like the Zombies and the Kinks with the unpredictable and arty predilections of Chelsea Wolfe's Grim and the Glow. Post Moves have made what functions as a collection of love songs, if people wrote songs about what love actually feels like—enticing but complex, full of stops and starts, and beautiful in its frailty.
Sponsored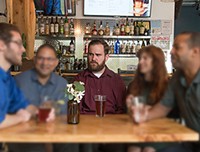 Adults aged 18-35 with good hearing will be paid for their time. Located at the Portland VA Medical Center