POK POK is more-or-less a household name by now, and that isn't necessarily limited to Portland. Their "press" page is littered with national media outlets, and besides maybe Voodoo Doughnut, it seems to be the most requested dining locale by my out-of-town visitors. Surely bolstered by a recent James Beard Award, Chef Andy Ricker's little empire of Thai street food keeps expanding, and there doesn't seem to be any sign of saturation. Pok Pok, Whiskey Soda Lounge, and Ping have recently been joined by two of Ricker's latest ventures, Pok Pok Noi—a smaller lunch-counter version of the original—and Som, the retail arm of Pok Pok's popular drinking vinegars.
Sponsored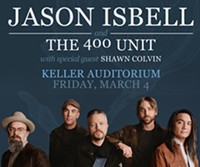 Jason Isbell has established himself as one of the most respected songwriters of his generation. Don't miss Jason Isbell and the 400 Unit, March 4th at Keller Auditorium!
For those already familiar with Ricker's offerings, Pok Pok Noi won't be much of a surprise—I mean that to suggest comfort more than disappointment. When you walk into the narrow Northeast Portland storefront, sandwiched by Tiga on one side and Grain & Gristle on the other, it'd be easy to fear that something might be lost in the downsizing. With the exception of seating (there are about 10 barstools inside and handful of picnic tables on the patio) and Ricker's specials board, those fears are unfounded. If anything, it'll remind longtime fans of Pok Pok's humble take-out-shack origins.
The menu, as I mentioned, is smaller, cut in half to about a dozen dishes. But those dishes sacrifice none of the quality you've come to expect from the Ricker's kitchen. Ike's wings ($12) are just as irresistible. Glazed with palm sugar and Vietnamese fish sauce, these chicken wings (as you should know by now) are fried to a caramelized crisp and tossed with garlic (and if you ask for it—which, if you're smart, you will—enough spices that the pickled vegetables on the side of your plate are more necessity than garnish).
The Neua Naam Tok ($11) has one of the broadest ranges of flavor. This variation on a steak salad has no traditional salad greens, but enough mint, cilantro, lemongrass, and shallots to fall into that category. The steak is marinated in fish sauce, and all of it is doused with lime, chili powder dressing, and a toasted rice powder. The menu recommends ordering sticky rice to temper the heat. I second the motion.
In my mind there are no real misses on this menu, but there are a couple items particularly appropriate to bellying up to the bar for a meal alone (I imagine the ratio of solo-to-group meals is higher than at Ricker's other restaurants). These are the dishes that resemble more of a plate lunch. The Khao Man Som Tam ($9.50) comes with a small portion of their namesake green papaya salad, coconut rice, and some of the best shredded pork you'll ever eat—caramelized and a little bit sweet. I daydream of some kind of banh mi full of the stuff. Similarly, the Pok Pok special ($12) serves up the same accoutrements alongside their rotisserie game hen. It's cooked with lemongrass, cilantro, garlic, and pepper. A crisp skin keeps all the moisture inside. The dish is served with a great tamarind dipping sauce—but you honestly don't need it—the chicken is flavorful enough on its own.
While you're there, you may consider picking up a bottle of Som, the syrupy concentrate for Pok Pok's drinking vinegars. Made with cane sugar, coconut vinegar, and fruit juice, Som—when mixed with soda water—splits the difference between an Italian soda and kombucha. It's sweet and fruity, but with a distinct vinegary kick.
The suggested ratio is one part syrup to four parts soda, but I prefer it a tad on the weaker side. As the good listener that I am, I took the advice of the man who sold me my bottle of pomegranate Som, and added an ounce and a half of bourbon to that mix. Typically, my summer beverages only differ from my winter beverages in that I might add two ice cubes to the glass of whiskey, but this is actually a warm-weather cocktail I can get behind. For the time being, only tamarind, apple, honey, and pomegranate are being bottled, but you can expect a wider range of flavors to come.
At $13 for a 16-ounce bottle, it may seem on the pricey side, but I'm only using about an ounce per drink. Sure you can buy a two-liter of Coke to mix with your booze for a lot cheaper, but for the quality of cocktail here, it's not a bad value. And now that you can mix your own Som at home, no one can judge you for sitting on your couch and plowing through a couple dozen fish sauce wings.