FIRST WEDNESDAY'S the day when the Somebodies allegedly art walk the Pearl, to get a jump on First Thursday's milling hordes. Gatekeepers and tastemakers, let me pass, and I'll cut you a check.
Kidding, but there really is a big fundraiser at Augen (71 NW Davis). Jim Riswold's Art for Oncologists puts the "art" in "cathartic," processing a 13-year battle with cancer that's only strengthened his sardonic wit. Giant, clinically white valentine-candy hearts are emblazoned with pill names. Artist statements and text prints spill (fun?) facts about cancer and its incumbent drugs. But the main attraction is a talk by Dr. Brian Druker, the OHSU innovator of the treatment that—no joke—saved Riswold's life.
At nearby Charles Hartman (134 NW 8th), Daniel Robinson's Open Road is a series of paintings of landscapes and rural industry. Tawny hills and railroad tracks roll, and buildings jut silos, drainpipes, and telephone poles. The barn red, sunset gold, and royal blue romanticize the primary palette in scenes that evoke William Carlos Williams' "so much depends upon a red wheelbarrow," fusing manmade utility and natural beauty into a single muse.
At Blue Sky (122 NW 8th), Chuck Close's massive Tapestries, machine-woven grayscale portraits of the faces of art-world stars, loom nearly nine feet tall. If they came to life, they could eat you. Fun games: (1) See if you know all their last names, because the titles are only their firsts: Lorna, Philip, Cindy, Lucas, Roy, Kiki, and Andres*. (2) Imagine each giant, impassive face ending up in some hallowed hall of followers. Think of what prayers you might have for Mr. "Piss Christ" and his cohorts. Ask these art gods for their forgiveness and indulgence.
I, meanwhile, must say "spare me," to art prof Paul Sutinen's grayscale-on-white flattened cubes and polygons in Nine Gallery (122 NW 8th). My colleagues at Oregon ArtsWatch (orartswatch.org) swear they're profound, but I'm having trouble seeing how. I prefer my abstraction with a hint of depth, trajectory, and physical property. For instance: At Froelick (714 NW Davis), Michael Schultheis floats saffron-hued squiggles in a pale blue color field diffused with a blurry light source from seemingly deeper in. The shapes, like graph axes and compass curves, hint at calculations being made, maybe underwater or in the sky. Similarly at Butters Gallery (520 NW Davis), luminous and mottled color fields suspend sea specimens and lacy lichen in Marlana Stoddard Hayes' Proclivities. In a chat with Kristina Butters, I learn that a brush with cancer—a sadly recurring universal theme—inspired the work.
Backspace (115 NW 5th) continues to rep spray muralists with a giant collaboration piece. Aquamarine ladies by N.O. Bonzo are flanked in rose vines this time, where the artist's usual favorite filigree is intestines. Ashley Montague finishes the wall with a pensive old-man head at Tapestry scale, another meditating man bisected by lightning, and a Möbius cube whose extra dimensions almost compensate for Nine's drab flatties. The color scheme may be acid-addled, but street artists' shading skills, honed to minimum strokes for haste, always amaze me.
It's said that First Wednesday is the day for rubbin' elbows—and indeed it offered unique access—but the scene is too eerily calm for my taste. I've grown accustomed to sidewalks clogged with smartphone junkies, pashmina-flaunters, and dog-fussers. I long to overhear some bad jazz and chirpy remarks. All due respect to the Somebodies, but I'll keep my standing date with Thursday's hoi polloi.
_________________________________________________________________________________________
* If you said Simpson, Glass, Sherman, Samaras, Lichtenstein, Smith, and Serrano, good job!
Sponsored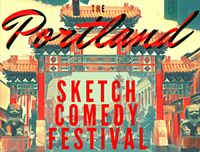 Sketch comedy troupes from all over N. America descend on The Siren Theater for 3 glorious nights.