EVERY MONTH OF 2013, I danced a soft-shoe down sidewalks and up stairwells, into galleries and atria where art (or its approximation) was offered. I carried a battered notebook, spoke to almost no one, and wrote about whatever I saw. Here's some stuff that I remember.
---
The Explicit
Move over, penises; the valiant efforts of Cock Gallery aside, this year's nudity trended pudendal. A.L. Steiner's show at PNCA's Feldman Gallery led its audience from queer BFFs to ritual lesbian broom-banging and fist-fucking. Wyatt Benoit's La Moustache at PNCA embellished a hoo-hoo with various mustache-shaped merkins.
---
The Far Out
At ADX, the backwoodsy Toby J. carved a tree stump into a bear with a chainsaw. In the Pearl, Dan Corson installed Nepenthes, a set of giant lamps shaped like pitcher plants. At PDX Contemporary, Evan La Londe showed photos he'd taken while living in a giant camera obscura. Jordan Domont reimagined the zodiac in trippy, drippy watercolors at One Grand; Klutch filled Upper Playground with orange flames; and Reed College staged a multimedia mindfreak with its "Reverie"-themed arts week. While viewing Lucas Foglia's A Natural Order at Blue Sky, a woman who'd grown up "off-grid" like the exhibit's subjects gave me a detailed tutorial on frog hunting.
---
The Realistic
Remember when the lady with opera glasses and the man with the monocle were the same guy? Stephen O'Donnell's baroque he/she self-portraits outfoxed all but the most astute Froelick Gallery observers. Miles Cleveland Goodwin's A Long Road Home, also at Froelick, placed subjects in bleak, spacious landscapes, often facing away. In the photo realm, Danny Lyon's The Bike-riders at Charles A. Hartman romanticized '60s gangs of tuffs better than West Side Story, while Blue Sky hosted a steady stream of IRL imagery.
---
The Horror
Looking at Andy Warhol's "Saint Apollonia" at Augen was like pulling teeth, but not nearly as distressing as the way that Sarah Mikenis' Kim Kardashian portrait at the Jupiter foretold the future, depicting the dead-eyed celeb against a star field, mirrored recently in Kanye's "Bound 2". Also, guys, I swear Claire Cowie's "Fingerwall" at Elizabeth Leach tried to reach out and gouge me.
---
The Changing of the Garde
For better or worse, Everett Station Lofts got a little less stonery and more yuppified this year, and Portland Storage Company spiffed up its studios to show off to strangers. Portland Art Gallery, an ambitious new shop with a PAM-similar name and a classical aesthetic, grand-opened twice: first in Southeast, then again in industrial Northwest. PICA's TBA Fest also moved its event-hub, the Works, from Southeast to Northwest. NE Alberta's Last Thursday was dropped by its Friends and overtaken by rent-a-cops and the Hales Brigade.
---
A Note to Neon Triangles
Neon Equilateral Triangles, this was your year! Everywhere that there wasn't some more memorable motif, BAM!, it was you, or your close cousin, the crystal facet. I think you've had your fun, and it's time to—not bounce—but... be gone. Don't worry, I'll still see you—on traffic signs and in my mind's eye during prayers to Ra.
Sponsored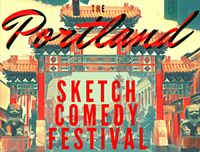 Sketch comedy troupes from all over N. America descend on The Siren Theater for 3 glorious nights.