YOU MAY CALL TBA avant garde or outré, or really almost anything in French... but you can't call it accessible. The guidebook claims a bunch of visual art exhibits are open daily from noon-6:30 pm at Northwest Portland's Con-Way warehouse, this year's location for TBA's late-night program the Works—but it lies. Two exhibits (Lucy Raven's Room Tone and Andrew Ritchey's The Secret Society) stand unmanned 'til later in the evening, while one and a half are viewable. When I confess expecting more stuff onsite, my volunteer guide says, "Me too."
Alex Mackin Dolan's Puzzles as Sculpture seems to be about travel, use of time, and the rigors of self-preservation (specifically, hydration). There's a floor-mounted close-up of a hotel nightstand; wall-mounted pictures of crowds and a tour guide; screen-printed tablecloths of shoeprints and suns. Empty water glasses are etched with scribbles, pictures of the sun, and chirpy reminders to drink three liters by the time the sun sets (though one glass inexplicably reads, "peace walk january"). Chinese checkers games set up on a table, hourglasses in place of pieces, suggest that time is the real element at play. An unzipped backpack spills a blank notebook with a "return 2" phone number on the front—which I dial, getting a Spanish voicemail box in Dolan's name. A dormant Wii console and computer feel like a trap, so I leave them untouched.
Jamie Isenstein's Infinite Disco Soft-Shoe is a black-and-white film loop of a synchro-dancing duo—a person and a life-sized puppet—in top hats and workout pants, jerking a cane to the right and jutting a hip to the left over and over forever to a lounge piano version of "Staying Alive." The TV plays on the floor in the dark, Poltergeist-style. The rest of TBA's visual arts are scattered across the Portland metro universe from Reed to Albina like so much post-bang stardust.
At PNCA's Feldman Gallery, A.L. Steiner's Feelings and How to Destroy Them sledgehammers a political premise, "the patriarchy is a pyramid scheme," then meanders to a subversive sexual solution: ritual masturbation and lesbian fistfucking on the big screen. "We don't need them," it seems to say, "and here's how." Innocent interludes along this road-less-traveled are "Color Location Ultimate Experience," an outdoor pas de deux clad in each color of the rainbow; and a montage of actor audition tapes for James Dean's role in Rebel without a Cause.
PICA's home base paradoxically offers the least TBA visual arts action, and their broken elevator means climbing three flights of stairs. Anna Craycroft's space is less an exhibition than a collection of evidence that a summer lecture series transpired. What it looks like is children's artwork: naive shapes and nonsense words drawn in crayon and marker on large newsprint, clipped up on the wall, classroom style. Kids, I appreciate that you name-checked 2 Live Crew and can correctly spell "trampoline," but your handwriting needs improvement. Wait, you're not kids? I'm confused. I guess, like the rest of TBA, you had to be there.
Sponsored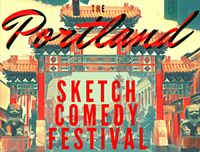 Sketch comedy troupes from all over N. America descend on The Siren Theater for 3 glorious nights.