NOMINATIONS WERE ANNOUNCED on Tuesday, April 15, for the 2014 Eisner Awards, the comics industry's biggest awards ceremony. Winners won't be announced until Comic-Con in San Diego in July, but Portland creators and publishers are well represented on the nominations list. For a reading list, you could do worse.
Sponsored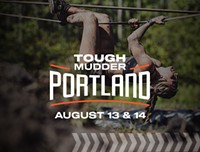 Lock in your summer adventure, Portland. Join us for world famous obstacles over a 5K or 10K distance.
Kelly Sue DeConnick: Nominated for best writer for her beautifully creepy western Pretty Deadly.
Matt Fraction: DeConnick's husband, Matt Fraction, is also nominated for best writer (oooOOOooo), plus he picked up nominations for his super-fun Hawkeye, his super-silly Sex Criminals, and for the great Hawkeye issue "Pizza Is My Business," about a dog who loves pizza.
Paul Tobin: The writer shared a nomination for best limited series with artist Juan Ferreyra for the Dark Horse title Colder.
Dave Stewart: The local colorist has won like a gajillion Eisners; he's nominated this year for his work on Dark Horse titles including Abe Sapien and Hellboy in Hell.
Greg Rucka: Lazarus, the female-driven sci-fi series Rucka created with artist Michael Lark, got a best new series nod.
Dark Horse Comics: Venerable publisher Dark Horse Comics cleaned up in the best limited series category, with nominations for The Black Beetle: No Way Out by Francesco Francavilla; 47 Ronin by Mike Richardson and Stan Sakai; and the aforementioned Closer. They also received two nods for kids' books, for Itty Bitty Hellboy (aww) by Art Baltazar and Franco, and The Adventures of Superhero Girl by Faith Erin Hicks; plus nominations for best anthology (Dark Horse Presents, edited by Mike Richardson) and best reissue (The Creep, by John Arcudi and Portland artist Jonathan Case).
Top Shelf: The Portland publisher snagged two nominations (best teen work and best reality-based work) for March (Book One), by Congressman John Lewis, Andrew Aydin, and Nate Powell. They also picked up a best reissue nod for Heck, by Zander Cannon.