Maureen Porter as Kate in The Taming of the Shrew and Kayla Lian as Maria in The Tamer Tamed, Portland Shakespeare Project at Artists Repertory Theatre, 1515 SW Morrison, through Aug 4, portlandshakes.org for dates and times
Though most of Shakespeare stands up topically over centuries of social change, The Taming of the Shrew is a toughie, forcing us to watch—and often expecting us to laugh—as a bloviating control-freak husband gradually breaks down his spitfire wife until she's finally willing to literally lay her hand on the ground for him to stomp on. (Ha? Ha ha?) In an apparent attempt to soften this Elizabethan wife beater's chauvinist blow, Portland Shakespeare Project will pair it with The Tamer Tamed, a sequel by Shakespeare's successor John Fletcher. In Tamer, we get to watch the same (pro? an?)-tagonist's next wife pussy-whip him back into submission (so it's... even?). But the particularly interesting thing about Porter and Lian as female leads in this diptych is that they recently played a sparring mother and daughter in CoHo's Crooked. They've already proven they can share a stage... now how about a man?
Chip Sherman as Mercutio in Romeo and Juliet, Willamette Shakespeare at TaborSpace, 5441 SE Belmont, Aug 23 & 24, willametteshakespeare.org for more locations and dates
Ever since Gatsby director Baz Luhrmann made Mercutio gay and black in 1996's Romeo + Juliet, it's been hard to imagine him otherwise. With that change, the character's "A plague on both your houses" finally smacked appropriately of "Fuck all y'all," and Mercutio's Queen Mab speech—a long poem about a faerie queen—made hella more sense coming from a drag queen than it ever did coming from a hetero messenger. Willamette Shakespeare maintains the Luhrmann casting standard, giving the role to gay black dreamboat Chip Sherman. Last seen playing a drag queen Cleopatra for a man-on-man rendition of Antony and Cleopatra at Post Five, Sherman will surely bring Mercutio—and Mab—to life.
Brett Wilson as many characters in The Complete Works of Shakespeare [Abridged], Post Five Theatre, 850 NE 81st, through Aug 4, postfivetheatre.org for dates and times
Chip Sherman has been just one of the last year's worth of reasons to believe in Post Five, the unlikely 82nd Avenue basement theater that's rapidly established its brand as scrappy underdogs who don't half-ass anything. Well, lately, they've been talking up this cat Brett Wilson, a recruit from the world of improv who's won Brody Theater's "Micetro" Award—but only ever acted in one play before. Trust Post Five with this kind of risk, giving a newbie The Works. Or don't trust them and remain perched nervously on the edge of your seat as you watch the ensuing slapstick with kneepads and a neon codpiece.
Sponsored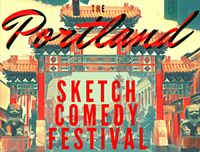 Sketch comedy troupes from all over N. America descend on The Siren Theater for 3 glorious nights.