BETWEEN THE LAURELHURST THEATER, the Academy Theater, and four billion interchangeable McMenaminses, Portlanders are rarely at a loss for a cheap movie paired with good beer. Which makes the Beer and Movie Fest almost, but not quite, redundant: while it's conceptually unremarkable (beer! movies! again!), it still brings films well worth catching on the big screen. This year, all of 'em are limited to this week's screenings at the Academy—where, on 35mm, one can catch 2001: A Space Odyssey, The Untouchables, Raiders of the Lost Ark, Boogie Nights, Star Trek II: The Wrath of Khan, and Conan the Barbarian. All of these films are excellent, all are worth seeing in 35mm, and all are made even better with beer.
After this week, things get iffier: For three months, BAM organizers Jacques Boyreau and Willamette Week movie critic Aaron Mesh will be curating screenings at the Laurelhurst—and while some of the movies are great (One Flew Over the Cuckoo's Nest! Videodrome! Casino!), they're all being shown on Blu-ray.
What makes Portland's beer theaters remarkable is the chance to see a film in a way you can't at home—while just about everybody's got an HD TV in their living room, 35mm and high-end digital projectors are two of the few advantages theaters still boast over services like Netflix. With this week's 35mm offerings, BAM offers plenty of motivation to leave the house. Once things switch to Blu-ray, it's harder to see what BAM offers that we don't already have plenty of.
Sponsored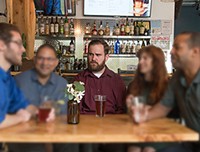 Adults aged 18-35 with good hearing will be paid for their time. Located at the Portland VA Medical Center