DANIEL CLOWES' Eightball comics came into my life at just the right time and age. A new transplant to the Bay Area and still mourning Twin Peaks' cancellation, the bizarre world of one of Eightball's serialized stories, Like a Velvet Glove Cast in Iron, quickly filled the surreal-shaped hole in my heart. Clay Loudermilk's mysterious quest to find his missing love, men with shrimp-tail eyes, a shadowy cabal of snuff-filmmakers, and strange potato-mutant waitresses? Sold! Even 25 years after Clowes created this indelible WTF, it's still as scary and delightful and puzzling as the day it was first inked in 1989.
To celebrate that quarter-century birthday, Fantagraphics has released a two-volume hardbound collection of the first 18 issues of the classic underground comic. (The last five Eightball issues are different beasts, Clowes writes in the collection, and "Those collectors with OCD should seek treatment.") The anthology spans eight years when Clowes moved from his hometown of Chicago to Berkeley, marking a shift in tone for the series. There are behind-the-scenes tidbits, but most importantly, all 560 long-out-of-print pages are included. Besides that satisfying completion (I've NEVER found issue #4, even when I lived nine miles from the author himself), The Complete Eightball showcases Clowes' incredible growth and breadth as a comics creator. Serialized stories like Ghost World and Pussey! are cushioned by touching portraits ("Caricature"), satirical pieces ("Ugly Girls," "On Sports"), and oodles of letters and gags (like Clowes' now-quaint incitement to send him prank phone call tapes: "Sound quality counts. Use a suction-cup phone mike.").
Like a videotape of '90s late-night TV, reading Eightball from cover to cover is as much a time capsule of ephemera as it is a collection of deeply of-this-time emotions that will never expire. (Best friends forever, Enid Coleslaw!) This week, go thank Clowes at one of his Portland appearances for his weird and wonderful mind that created such sweaty and haunted wonders.
Sponsored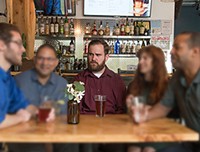 Adults aged 18-35 with good hearing will be paid for their time. Located at the Portland VA Medical Center