I'm not gonna lie: It wasn't the first Thursday night I've spent listening to grown men in costumes talk about their childhood fantasies. But it's never happened in a former church before.
Storytellers auGi and Slash Coleman borrow Triangle Productions' new theater space, the Sanctuary, for a night of storytelling based around the idea of heroism. The two halves of the show are anchored by stories from Coleman and auGi, respectively, plus supplemental stories from two other local performers (on the night I attended, Andrew Bynum nearly stole the whole show with an account of becoming a US Marine).
Coleman and auGi give Big Plastic Heroes a chatty, informal introduction, explaining the format and asking the audience to keep their phones out so they can tweet about the show (oh, social media in the hands of actors, you are a dangerous thing). In the first half, Coleman relays a childhood obsession with Evel Knievel, and how it dovetailed with his desire to impress his third-grade teacher; in the second, auGi gives a raunchier account of his own fascination with Rambo.
The show was a little too scripted and jazz-handsy for my taste; both auGi and Coleman are able to coast some distance on their personal charm, but the faux-spontaneous affect of scripted storytelling can be grating. The best moments in both shows came when the writing shone—when Coleman described a girl's laughter as sounding like a "broken cotton-candy machine," or auGi elaborated on what kind of boner, exactly, Rambo movies gave him.
Sponsored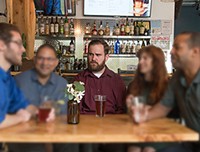 Adults aged 18-35 with good hearing will be paid for their time. Located at the Portland VA Medical Center