Let's get this disclosure out of the way: The Oregon History Comics series—releasing its 10-comic box set this week—was conceived by Mercury News Reporter Sarah Mirk. But the lavish amount of ink you see before you isn't just the product of bias; as a collaboration with the Dill Pickle Club, it's hard to dispute that the project is worth talking about.
Sponsored
Sketch comedy troupes from all over N. America descend on The Siren Theater for 3 glorious nights.
Mirk is a transplant, as are a significant chunk of Oregon's residents. Realizing that she and many of her peers are foggy on their adopted state's modern history, she set out to tell some of its less frequently represented episodes in a bite-sized, plainspoken platform. The petite, zine-like, black-and-white mini-comic books—each illustrated by a different artist selected by Mirk—are short and sweet enough for a child to understand (albeit one you'd find yourself having to explain opium dens and prostitution to), but sophisticated enough to satisfy adults as a succinct history snack in lieu of screwing up the resolve to tackle a full-on tome. Ultimately though, they're intended to pique interest into deeper research; each edition ends with a "Hey You! Learn More!" resource page listing relevant materials—the authors of which, in most cases, were also enlisted as fact checkers of the comics' texts.
With an eye to sampling sub-categories of culture, city planning, and politics, the 10 comics include: factoids about the Lone Fir Cemetery; the conception, reign, and closure of the legendary X-Ray Café; a survey of would-be freeways whose half-constructed forms are embedded in Portland's landscape; a recollection of the Portland chapter of the Black Panthers; a relatively ambitious account of the long, complicated history of Portland's Chinese community and the evolution of its Chinatown; the geographical and cultural saga of the damming of the Columbia; the tragic rise and fall of the region's lost city, Vanport; a lengthy sketch of the logging industry; Oregon's march toward suffrage; and an account of Oregon's first wave of bicycle enthusiasm.
Some feel more pressing than others. First undertaken two years ago, and clearly symbiotic with Mirk's reportage, many of the comics read like a cheat sheet to understanding current debates. Portland's Black Panthers and The Vanport Flood will help bring you up to speed on Portland's long history of systemic racism and segregation, from its redlining policies—the repercussions of which we find ourselves still dealing with today in the conversation surrounding development on N Williams—to the sordid practice of police targeting and abuse of people of color. (Some would argue that such attitudes are too alive and well to be relegated to "history" just yet.)
Indeed, if the concept of the Oregon History Comics seems at first glance a little cutesy, they're not really all that feel-good of a read. One of the longer editions, The Streets of Chinatown, traces a similar pattern of segregation and displacement of Portland's Chinatown, laying bare the circumstances that have brought us to the embarrassing conclusion of having a clearly marked "Chinatown" that has been largely abandoned by the community it ostensibly celebrates.
Others are less relevant to current headlines, but nonetheless touch our lifestyles, like the damming of the Columbia depicted in Voices of Celilo Falls, which left both the Native American and salmon populations compromised. The informative Dead Freeways not only explains some of the strange roads to nowhere dotted around town, but read in conjunction with the rest of the series, it also reveals a contrast between the power wielded by Southeast Portland residents to prevent a freeway slicing down its middle, as opposed to the bisected North and Northeast parts of town.
Rendered in simple black and white (it is somewhat tempting to repurpose them as coloring books), the illustrations range from consciously crude (like Mercury intern/cartoonist Suzette Smith's rendition of Votes for Women) to sophisticated (Harry Lau's gorgeous work on The Streets of Chinatown). No two share an illustrator, and the stable of talent includes notable names like Khris Soden's finely detailed contributions to Portland's Black Panthers; the defined texture of Nicole Georges' The Vanport Flood; and the graceful, saturated lines of BT Livermore's The Lives of Loggers.
Though individual copies of the series have already been made available in shops like Tender Loving Empire and Crafty Wonderland, as well as for free at the Multnomah County Library, the tidy, colorful box set would make a fine gift for newly transported arrivals, and as a remedial lesson for the sheepishly under-informed and/or attention deficit disordered. For an organization like the Dill Pickle Club, whose entire raison d'être is to create interactive educational tools for residents to gain a better sense of place, it's a model project. As unfortunate as it may be that so many of us are too distracted or impatient to study the history of our state and city in earnest, the mere hour or so of light reading that this series represents elevates the knowledge contained therein to required reading.
Sponsored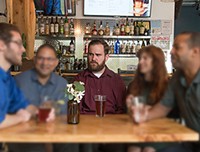 Adults aged 18-35 with good hearing will be paid for their time. Located at the Portland VA Medical Center