PETER AMES CARLIN is to Bruce Springsteen as Robert Caro is to Lyndon B. Johnson. That is either the single greatest endorsement for Bruce—the latest epic rock and roll biography from Oregonian writer Carlin—or a sentence that'll strike fear in your very soul. Weighing in just south of a wrist-shattering 500 pages and painstakingly arranged to leave no grain of Jersey Shore sand unexamined, Bruce is an absolutely massive undertaking that steers clear of shrill rock bio fandom, instead offering a balanced, levelheaded examination of the complicated existence of one Bruce Frederick Joseph Springsteen.
Blessed with complete access to Springsteen's inner circle, Carlin lays the foundation for Bruce before the enigmatic rock icon took his first breath of Jersey air. Springsteen's worrisome home life took root long before the rocker rebelled, crashed his motorcycle, and got a haircut in a hospital bed against his will (or, basically everything he recounts in his epic preamble to the Live/1975–85 version of "The River"). The early years of Doug and Adele Springsteen were less a romantic whirlwind of young love than they were a blunt reminder of lower-class America's endless struggle to endure. Then along came Bruce, an obsessive child with a wide-eyed attention to detail that far exceeded his years. Most disciples of the Boss are well versed in what followed—a baby-faced Bruce perfecting his chops with the Castiles and Steel Mill, crossing paths with a young Steve Van Zandt—but Carlin unearths long-lost tales of Springsteen's near-romantic encounter with Janis Joplin, and his time spent perfecting his skills in the barn at Esalen, the famed Big Sur hippie retreat.
You don't need Carlin to hold your hand when explaining what happens next—Bruce became "Bruuuuuce!"—yet the author does a masterful job of documenting Springsteen's gradual ascent from blue-collar dreamer to a denim-draped global icon with the world's weight on his weary shoulders. From there it gets complicated; the once-pristine image of Springsteen is tarnished with a failed marriage, the dissolution of the E Street Band, and that awkward period where he wore a bolo tie on the cover of Tunnel of Love.
Throughout Bruce, Carlin precisely balances his shrewd examination of Springsteen's career without canonizing the singer. If anything, Bruce takes stubborn pride in deliberately distancing itself from Springsteen's spotlight, instead offering an unprejudiced look at one of the most fascinating characters in rock music.
Sponsored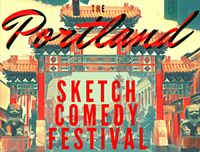 Sketch comedy troupes from all over N. America descend on The Siren Theater for 3 glorious nights.