I COULD BARELY keep up with the rapid, unyielding pace that was the first 20 minutes of In the Red and Brown Water, part one of Tarell Alvin McCraney's acclaimed trilogy The Brother/Sister Plays. That hardly mattered, however: While the analytical side of my brain strained for context and exposition, it was my senses that ultimately took over. By the time intermission struck, it was clear that McCraney's uncompromising text and Victor Mack's inspired direction weren't going to let up: This was theater to be felt, not analyzed.
In the Red and Brown Water takes place in the fictionalized town of San Pere, Louisiana, in "the distant present." It follows the life of Oya (played by the captivating Ramona Lisa Alexander) as she grows from a sweet young girl who runs faster than anyone in the state into a heartbroken, middle-aged woman longing for family and a child. Oya has two lovers, Shango (Damian Thompson), a swaggering and handsome playboy, and Ogun (Bobby Bermea), a speech-impaired gentleman who wants nothing more than to see Oya smile. Most of the play's dramatic action bounces between Oya's feelings for these men and her interactions with her n'er-do-well aunt Elegua (Jennifer Lanier), as well as her childhood friend Elegba (a haunting Brian Demar Jones), who's both a sort of younger brother and guardian angel. These characters age, grow, and change along with Oya, but there's little in the way of signposts. The sparse, effective design elements are woven into Mack's direction in such a way that time passes seamlessly; we see characters bloom through subtlety in performance rather than in makeup and montage.
At the heart of In the Red and Brown Water is an echoing focus on loss—of loved ones, dreams, and identity—but the play never delves too deeply into remorse. This is largely due to an ensemble and a director who find as much joy in the storytelling as possible. Combined with the ownership that the cast takes of McCraney's words, the results are an evening of theater not easily forgotten. One hopes Portland Playhouse will build on this solid foundation and round out the remaining Brother/Sister Plays (staged concurrently with In the Red and Brown Water starting Thursday, April 19) with equally bracing and honest treatments. Something tells me there's nothing to worry about.
Sponsored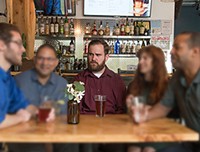 Adults aged 18-35 with good hearing will be paid for their time. Located at the Portland VA Medical Center