"ONCE I KNEW it wasn't going to destroy me entirely, I pretended like it didn't exist," says local choreographer and performer Allie Hankins of an injury sustained this year. She'd potentially fractured her toe in the middle of a two-hour improvised group piece. "I wasn't finding any sense of ground in [the performance]," she says. "Everything was all over the place and I didn't feel a connection with my other performers. My answer was to have this fully eruptive moment. I lost my temper and I kicked a chair.
"You have to rest a sprain, but I didn't rest," Hankins continues. Her story reminds me of the sets of tight, repetitive motions she ran her body through during her sold-out October performance at Conduit—slow and then suddenly quick, embracing the difficulty of both speeds. The name of that performance—Like a Sun That Pours Forth Light but Never Warmth—referenced the famous powerhouse Ballets Russes dancer Vaslav Nijinsky, whom Hankins spent the past three years researching and drawing inspiration from. "I wanted to make something that was nearly impossible to complete," she says. "Those motions felt right as far as Nijinsky and his obsessive repetition toward perfection [are concerned]."
Hankins employed plyometrics, continuous high-intensity jumping exercises, every week in an attempt to gain the strength to perform her own rigorous choreography. But during our interview, she seemed comfortable, even excited, at the idea that she might have fallen and failed that day at Conduit—or at any performance—and that if she did, it might all just be part of her work.
"The last night that I performed, everything seemed to come together into this really wonderful moment. There was the wedding happening in the room above me and the 'Chicken Dance' started playing. No one would look at me. It totally failed. The whole fucking thing crumbled! All suspension of disbelief was gone, because everyone was like 'WHOA, we're in the building with this poor girl with the "Chicken Dance" happening.' Right after that—thankfully—was the part where I wrestled 80 pounds of red fabric."
For now, the Nijinsky piece is done, but Hankins' new works sound just as ambitious. On the heels of her full-length show, she toured several cities with a new comedy piece, Don't Lend the Hand That Feeds You, which explores her sexuality in ways she left up to my discretion to convey.
On top of that, Hankins and three other local performance artists, Keyon Gaskin, Taka Yamamoto, and Lucy Lee Yim, have just this month received a prestigious grant from PICA's Precipice Fund in support of their new cross-disciplinary community project, Physical Education. "We're working on a series of programs that provide information and entry points into how people can view performance," Hankins explains. "So reading groups, lectures, and then curated performance events. Readings and lectures happen prior to the performances, and then that information is taken in by the attendees so that they feel like they develop more of a vocabulary."
Sponsored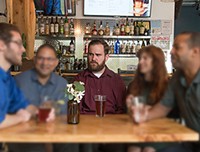 Adults aged 18-35 with good hearing will be paid for their time. Located at the Portland VA Medical Center