Graphic memoirs have become endemic recently—every writer with a life story seems to want to tell it in pictures. It's a trend just begging for a backlash, but before you dismiss the genre, make sure you read David Small's Stitches.
Small is a children's book author perhaps best known for Imogene's Antlers, the only book I can think of to which the words "whimsical" and "Kafka-esque" equally apply. Stitches is his first book for adults, a near-unbelievable account of the physical and emotional damage inflicted on Small by two people spectacularly unqualified to be parents.
When Small was young, his radiologist father used X-rays to treat the boy's asthma—which probably contributed to Small developing throat cancer at age 11. Such was the dysfunctionality of his family that Small's parents never actually told him he had cancer: They simply sent him to the hospital for what was described as a routine surgery. When he woke up, it was to find one of his vocal cords removed, his neck bisected by the stitches of the book's title.
While Small's story is unique enough, it's the art that really distinguishes Stitches, which often resembles a sophisticated, wordless children's book more than a traditional comic. There's little dialogue and Small's black-and-white illustrations perfectly render the strange and dreamy world of a shy, talented, frequently terrified kid. So forget the backlash—Stitches is handily one of the best stories to be told in any medium this year.
Sponsored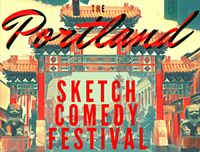 Sketch comedy troupes from all over N. America descend on The Siren Theater for 3 glorious nights.