I LOVE TACO TUESDAY and adhere to it with a Lent-like fervor. It's just a personal code of conduct. It's good to have rules and order in a chaotic world, KWIM? But have you ever noticed how it seems like every day some official foodstuff commission has cooked up a "National [Pizza, Sandwich, Whatever] Day"? There's a different foodstuff for every damn day of the year! And as it turns out, there's a different place in town to enjoy each of them. If you're one of those kooks who observes these bullshit eaters' holidays, then (a) I salute you, and (b) here's what you're eating this week.
Sponsored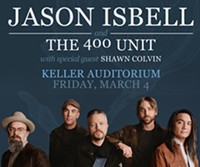 Jason Isbell has established himself as one of the most respected songwriters of his generation. Don't miss Jason Isbell and the 400 Unit, March 4th at Keller Auditorium!
February 24: National Tortilla Chip Day
Obviously, this can mean only one thing: nachos. I don't mean fried wonton skins or tater tots, though Expatriate and Oaks Bottom Public House will have those respective needs superbly met. On this day, you want fried corn, in all its golden, GMO-laden glory. For the canonical nacho, Breakside Brewery on NE Dekum is your best bet—with or without the pulled pork, you'll get the same platter of chips gilded with Tillamook cheese, black beans, sour cream, and guac, with diced tomatoes and jalapeños to slice through the richness. If you prefer your pub food love-child-style, the clever bastards also have Buffalo chicken nachos, complete with Rogue blue crumbles and celery.
---
February 25: National Chocolate-Covered Nut Day, National Chili Day, National Clam Chowder Day
Okay, this triple whammy requires a bit of planning, but your diligence will be rewarded. First, stop by Cacao and pick up Batch PDX's Nutty Crunchy PDX (filled with hazelnut-almond praline paste and crumbled feuilletine), or pop into Alma Chocolate for the sea salt hazelnut crunch bar. Then mosey on over to 2014 Chili Jamboree champs Podnah's. Their Texas Red DOES NOT FUCK AROUND. Finally, for clam chowder, you'll want to hit Chowdah in Sellwood, but if you're feeling flush, Ox's version goes balls to the wall with an ants-on-a-log of split marrow bone shingled in jalapeños.
---
February 26: National Pistachio Day
Although Farina's pistachio macarons are more olive-hued than HULKSMASH green, the nut flavor comes through loud and clear, both in the delicate shell and the gossamer filling. Pix Patisserie's pistachio macarons also scratch that pea-green itch while delivering the pistachio flavor. Pinolo (reopening on March 2, missing National Pistachio Day) uses fancy-ass pistachios imported from Sicily for their gelato, making them the clear winner.
---
February 27: National Kahlua Day and National Strawberry Day
First, go to Huber's for a Spanish coffee made tableside. Seriously, they're famous for them. For strawberries, forget the fresh product until June (when they're in season) and instead head over to Quin for some fancy non-chocolatey strawberry candies. Okay, yes, the shop looks like it should be the backdrop to having your balls professionally stepped on by someone wearing four-inch stilettos, but dang that candy tastes good. Get the strawberry lollipops and the strawberry gumdrops (there's also a strawberry-lemonade version!), and be swept back to your girlhood days of power-huffing your Strawberry Shortcake's pink hair.
---
February 28: Chocolate Soufflé Day
Hurry! Go eat Veritable Quandary's ethereal chocolate-Nocello soufflé before the big, bad county tears that restaurant down! Bazi Bierbrasserie also has a rich and sexy version.
---
February 29: Leap Year!
There is no National Whatever Day for Leap Day, but there is the Leap Year Cocktail, invented in 1928 by a bartender at the Savoy Hotel in London. St. Jack will feature the cocktail plus frog legs grenobloise and a rabbit fricassee for the day's specials, or you could check out SE Wine Collective's Leap Year raclette party with Cheese Bar's cheesemonger. Call or visit the SE Wine Collective for reservations.
---
March 1: National Peanut Butter Day and National Fruit Compote Day
Brunch Box has a grilled PBJ that will make your toes curl (and bonus for having the PB AND the fruit compote!), but if you prefer more angina in your sandwich, their Thai bacon burger (patty, lettuce/tomato/onion, grilled pineapple, jalapeños, bacon, and peanut sauce on Texas toast) will do the trick. For non-PBJ fruit compote needs, Chez Machin is one of my favorite little crêperies in town, and they even have a Gus Van Sant mural in the patio—a vestige from when the spot was still Macheezmo Mouse.
---
March 2: National Banana Cream Pie Day
To cap off your week of heroic eating, head to Random Order for their banana cream pie, or if you're in a more southerly quadrant, Lauretta Jean's. They're both so good. Flaky, buttery pastry with silky banana custard and cloudlike puffs of whipped cream make this a pie to enjoy year-round.