FEW HIPHOP PRODUCERS have left as large a mark on the genre in such a short frame of time as James Yancey—better know by his stage names Jay Dee or J Dilla.
Sponsored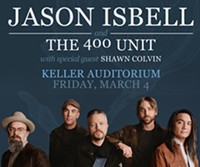 Jason Isbell has established himself as one of the most respected songwriters of his generation. Don't miss Jason Isbell and the 400 Unit, March 4th at Keller Auditorium!
Yancey got his start at 20 with a production credit on "Now," a 1994 track by Detroit group Da' Enna C. He spent the next 12 years working with the genre's best—Madlib, Busta Rhymes, Mos Def, Ghostface Killah, and the Roots, among many others—and defining the sound of the underground scene: rich, soulful grooves sutured together from sources old and new. Even his death at the age of 32, due to lupus and a rare blood disease, has not dulled Dilla's impact. His work has been compiled, reissued, picked apart, and celebrated by music heads from around the globe.
"I'm glad that his legacy is really blasting off," says Tre Hardson, AKA Slimkid3 from the Pharcyde. "The momentum of the way people felt about his music is huge right now. There's an unstoppable J Dilla movement right now."
That momentum is what's driving the Welcome to Dillaville tour, a show that pays heartfelt homage to the man's life and work. The evening kicks off with a presentation that offers insight into Yancey's working methods, as well as showing off some of the equipment he used (including his trusty E-mu SP-1200 drum machine), all with the hope of inspiring future beatmakers.
The night continues with live sets by artists that Dilla worked with along the way. Hardson and fellow Pharcyde member Fatlip—performing as Bizarre Ride Live—will lean on material from their 1992 album Bizarre Ride II the Pharcyde, while also pulling in some Dilla-produced tracks from their follow-up, Labcabincalifornia.
Also performing is Slum Village, the group Yancey helped form in Detroit back in 1996, who have carried on using a vault of unreleased Dilla beats as their guide, like the recently released single "Yes Yes."
"It was kind of up to me to keep it going," says RL Altman III, or T3, one of the other founding members of Slum Village. "Dilla was the one who really gave me the courage to do that. He's the one who showed me how to make beats. I figure now we can treat it like a teacher giving back, still keeping the legacy alive and keeping it going forward at the same time."