No Straight Lines
edited by Justin Hall (Fantagraphics)
Sponsored
Sketch comedy troupes from all over N. America descend on The Siren Theater for 3 glorious nights.
No Straight Lines: Four Decades of Queer Comics is an important, overdue anthology—but to describe it as such shouldn't take away from just how much fun it is. Among the stories chronologically collected here, there are tales of young love, heartbreak, frustrated nights at the club, and meaningless hookups of both the fun and depressing variety; there are drag queens, lesbians who sleep with men, transgender people in transition, and a few anthropomorphic penises, just for good measure. Some of the most powerful work here deals with the AIDS crisis, while the funniest stuff mostly involves butts. Queer-themed comics have long been self-published, indie affairs (gay Green Lantern notwithstanding)—thus this book collects not only a remarkable range of tones, styles, and perspectives, but also serves as a fascinating walk through 40 years of comics history. It's a great anthology, a must-have for comics fans, queers, and especially anyone in the sweet spot where those circles overlap. ALISON HALLETT
The Legend of Bold Riley
by Leia Weathington (Northwest Press)
Release party w/Weathington and Vanessa Gillings, Bridge City Comics, 3725 N Mississippi, Sat June 30, 6 pm, 21+
You like Buffy? Now throw some Xena and Conan the Barbarian into that mix and you've got a pretty good idea about Portland comic creator Leia Weathington's debut book The Legend of Bold Riley. Set in the fairy-tale Eastern country of Prakkalore, the Princess Rilavashana (nicknamed Riley) is bored by her well-explored kingdom, so she sets out to vanquish monsters, sex up pretty ladies, and kick some ass. There are five stories, each illustrated by different artists, and some shine more than others: Jason Thompson in "The Serpent in the Belly" is a standout, with expressive illustrations that are rich with details about Riley's world. The Legend of Bold Riley is a goofy and enjoyable Arabian Nights-style collection that never makes a hullabaloo that its strong sword-brandishing hero and righter of wrongs is a woman (a woman who loves the ladies, no less), because, duh, why the fuck wouldn't she be? COURTNEY FERGUSON
Animal Man: Volume 1: The Hunt
by Jeff Lemire and Travel Foreman (DC Comics)
When DC Comics rebooted their line last August—reimagining their books with new creators and storylines—only a few titles stood out. Chief among them was Animal Man, written by Essex County's Jeff Lemire and featuring creepy, jarring art from Travel Foreman. In that first issue, Lemire and Foreman introduced Buddy Baker, a man who can take on the attributes of any animal he wishes—but also the sort of guy who when he gets interviewed by The Believer, has his profession listed as "superhero/actor/activist." Buddy—who spends more time hanging out with his family than fighting supervillains, and describes himself as "just a guy from San Diego with animal powers"—soon discovers that his young daughter is exhibiting abilities both similar to and far more worrisome than his own.
Animal Man had a great first issue, full of weird promise and ominous dread, which makes it a bummer that in the five subsequent issues that make up this collection, the book doesn't go much further. Things happen, but the stakes feel the same; questions are answered, but more are asked. Animal Man may still cash in on the potential of its beginning, but it doesn't do so here. ERIK HENRIKSEN
Jerusalem: Chronicles from the Holy City
by Guy Delisle (Drawn and Quarterly)
Even-keeled comics memoirist Guy Delisle has documented day-to-day life in Pyongyang, Shenzhen, and Burma; for his newest book, he packs his pencils and heads to Jerusalem with his partner, an administrator for Médecins Sans Frontières. While his partner is in and out of Gaza, doing important doctor-type work, Delisle spends his days taking care of the kids, exploring religious sites, and learning new ways to navigate Jerusalem traffic. It's a remarkably level account—Delisle is clearly sympathetic to the Palestinian cause, but it's only with extreme reluctance that he refrains from shopping at a grocery store in an Israeli settlement. (It stocks his favorite brand of cereal.) Most of his commentary is limited to the "Whoa, that's weird!" of seeing men out for a job with guns casually strapped to their backs. The decision to emphasize the mundane, rather than the political, is paradoxically what makes Jerusalem such a quietly compelling read. AH
Nurse Nurse
by Katie Shelly (Sparkplug)
It's the year 3030! Humans are living on Mars and Venus, but the artificial atmospheres cause random cases of atmosphere poisoning. Luckily there are still go-go boots... I mean, space nurses! Matter-of-fact space-hottie Nurse Nurse is a recent nursing school graduate, traveling on a planetary circuit to treat poisoned colonists—but instead of running into atmosphere poisoning, she ends up fielding mysteries, boy bands, bureaucracy, lost love, evil pirates, and sneaky aphrodisiac butterflies! Nurse Nurse is reminiscent of 1960s European sci-fi, but it's more approachable and well explained; and it's so much fun that it also reminds me of Scott Pilgrim (the earlier, less emo books). Nurse Nurse is the first book published by Sparkplug since the death of its publisher, Dylan Williams, and it continues their reputation of bringing amazing, under-the-radar comics voices out into the light. I'm so glad to have another Sparkplug gem. SUZETTE SMITH
The First Sign of Anything
by Kevin Hooyman (Self-Published)
It begins with a longhaired woman, sitting at a desk, drawing. She tells her dog she'd "like to think that this one little chapter would include pretty much everything a person needs to know to [...] establish themselves as a member of any community on Earth!" Then she and the dog begin to change. Split into seven chapters, The First Sign of Anything at first felt like a humorous play on self-help material, but then I began to realize Hooyman's social psychology observations are completely in earnest. His beautiful, densely drawn subjects change their shape, reflexively morphing to match and illustrate each new concept. This is officially the first comic book to almost trigger my own existential vertigo. Luckily there's a feeling of calm and flexibility worked into the art itself; the meticulous lines are natural and organic. Big picture concepting busts a variety of hilarious dance moves. SS
Baby's in Black: Astrid Kirchherr, Stuart Sutcliffe, and the Beatles in Hamburg
by Arne Bellstorf (First Second)
While technically one of many fifth Beatles, bassist Stuart Sutcliffe was more like the lost Beatle, due to his untimely death in 1962, and his tale hasn't been crammed down your storyhole as aggressively as all those other Beatles. In the historical comic Baby's in Black—written and drawn by Arne Bellstorf—Stu and lovely photographer/ tastemaker Astrid Kirchherr get their time in the limelight. A burgeoning artist, Sutcliffe was the bassist for the Beatles when he fell in love with pixie-haired Kirschherr. She was instrumental in creating the group's early style—her iconic photos of the group are indelible. Their sweet story of love and art and music is set in early-'60s Hamburg, Germany, when the baby Beatles were cutting their teeth in the red light district. Beatles fans will have much to like about the book, but non-Fab Four lovers might find it narratively light underneath its beautifully drawn, apple-cheeked charm. CF
Trinity: A Graphic History of the First Atomic Bomb
by Jonathan Fetter-Vorm (Hill and Wang)
The comics medium can handle just about any subject, as ably proven by Jonathan Fetter-Vorm's Trinity: A Graphic History of the First Atomic Bomb, which begins with the myth of Prometheus and ends with a haunting coda. Crammed into the too-few pages between is a brisk, dry recounting of why and how the United States decided to develop and use the atomic bomb; one could say the book's protagonist is J. Robert Oppenheimer, but the real star is the bomb itself, heavy with menace and mystery.
But while comics can tackle just about any subject, the medium also shows its shortcomings in Trinity—thanks to its visuals, the science and scope of the bomb is made readily accessible, but thanks to history, the book also reads too frequently as merely panel after panel of talking heads and narration. The real drawback, though, comes from Trinity's 151 pages—that's not much space for a story this complex, and chances are if you enjoy Trinity, your next step will be tracking down another book that goes deeper. EH
The Year of the Beasts
by Cecil Castellucci, Nate Powell (Roaring Brook)
The Year of the Beasts—a mashup of YA novel and comic book—is a little too self-aware, even if its teenage melancholy rings true. Written by Cecil Castellucci (a former musician and current YA writer) and drawn by Nate Powell (Eisner Award-winning Swallow Me Whole), Beasts alternates between prose and comic-panel chapters, jumping between a time when sophomore Tessa spends the summer being jealous of her younger sister and her new boyfriend, and the next fall when Tessa has mysteriously changed into a talking-snake-haired Medusa who turns people into stone. These confusing skips from prose to panels make for a puzzle that is summed up in the novel's final chapters a bit too patly. Powell's art is striking and Castellucci is a confident writer, but the time spent sleuthing isn't quite worth the payoff. COURTNEY FERGUSON
Sponsored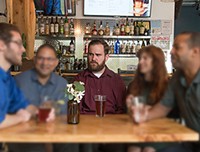 Adults aged 18-35 with good hearing will be paid for their time. Located at the Portland VA Medical Center