MEET ACTOR ALEX KLEIN, a founding member of Post5 Theatre who splits his time between Portland and LA. He's currently sojourning here for the company's second summer run of The Complete Works of William Shakespeare (Abridged)—Revised, a fast-paced comedy at the Bard's expense. Part of a three-man comedy "dream team" alongside diction/choreography specialist Chip Sherman and Post5 Artistic Director Ty Boice, Klein plays a hoodie-clad, drug-pushing Friar Laurence, a Julia Child-ish Titus Andronicus, a German Antony, a patch-jacketed poseur who claims to be a "preeminent Shakespearean scholar," and more. He also appeared twice on NBC's Community as one of "the Germans," jockeying with the beloved study group for foosball greatness and conference room dominance.
---
Community? Do tell!
"The Community gig was my first theatrical audition in Los Angeles outside of student films. In all honesty, I think I just fit a checklist of what they were looking for; I had a comedy background, I was tall and Aryan looking and could do a decent-enough German accent. The fact that the role was parlayed into a recurring one was just dumb luck. I think fans liked the Germans enough that there was a lot of feedback asking for their return, and the writers for that show definitely heed the cries of their fanbase. Some of the funniest moments were in between takes, when Donald Glover and Danny Pudi would just improvise and play with everybody on set... a lot of brilliance happens when the cameras are turned off, unfortunately. Also, Chevy Chase passed gas on one take during a line, and without missing a beat Danny said, 'Well, at least we know you can do something on cue.' I don't know when I've laughed harder in my life."
Between LA and PDX
"I still live in LA, but I do a show or two here each year. In LA, there are a lot of frequent opportunities that are not as time consuming as theater, but I find that theater allows you to breathe in deeper and explore more because of the time allotment. Film is a medium that rewards spontaneity and gives less room for overthinking. Theater is a slow burn; film's a quick explosion. Opportunities are plentiful in both cities. Portland facilitates a great community that caters to actors, as does LA. As soon as I get back to LA, I'll finish up some narration and pick up shots for a feature called Betting on Baker to be released this coming fall. Then I'll plunge head-first into the fray of TV episode season!"
The Comedy/Drama Divide
"A lot of people say comedy is the same thing as drama but with higher stakes—and they're absolutely right. Comedy needs a shot of absolute truth, and drama needs points of levity.
I struggle with that 'quintessence of dust' speech where [Complete Works] goes from completely cartoony to all of a sudden deadly serious. It asks the audience to switch gears without warning, and it's been met with a lot of interesting reactions. But I've grown to really love that point in the show. There's an opportunity to add gravity to the play in that moment. It's a delicate balance: With even a hint of caricature, it falls very flat and is simply embarrassing. Like most actors, I've always really wanted to play Hamlet, and this is the closest I've come thus far to actually doing it."
The Complete Works of William Shakespeare (Abridged)—Revised at Post5 Theatre at Milepost 5, 850 NE 81st, Thurs-Sun 7:30 pm, through June 28, $15 (pay-what-you-will Sun)
Sponsored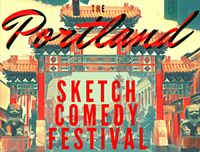 Sketch comedy troupes from all over N. America descend on The Siren Theater for 3 glorious nights.