THE PLOT of the operatic masterpiece Così fan tutte is preposterous, not to mention eerily misogynist. Two Neapolitan sisters are duped by their own fiancés... fiancés who disguise themselves as "Albanians" to test the sisters' fidelity. Such zany comedy—one part Shakespeare and one part That's So Raven—was customary during the Enlightenment. Hinging an entire plot on the stupidity of two women (evidently so thick they can't recognize their own fiancés wearing mustaches)... ditto. Così fan tutte roughly translates to "All women are like that." Quaint, no?
The first act is auspicious. During the sisters' first scene together, the Portland Opera production takes on the feel of a George Cukor film. The interiors, though sparse, resemble a fairyland, with diamond-studded walls and floors. Likewise, the sisters' playful, slumber party-esque discourse suggests their innocence. The second act, however, is heavier and overlong. The sisters are exposed as—oh my god!—women, not girls. The fairyland set physically splits into pieces onstage. It's symbolic. Oops! "All women are like that."
Mozart's score is, naturally, flawless. In fact, most of the time the orchestra outdoes the sopranos. That's not to say that the performances are lacking—Mozart normally outshines everything. (Lauren Skuce as Fiordiligi is especially stunning.) The finest aspect of this production, though, is the attention paid to the time period. Setting the action in 1950s Italy (rather than the 18th century) is commendable here—and encouraging when considering the future of staged opera. With this slight tweak, this version of Così fan tutte becomes more recognizable to a modern audience and, thus, more accessible.
I wondered how many ways Così fan tutte could be even more accessible to modern, would-be operagoers. Would the characters confront the implicit misogyny? Would the sisters take back men who went to such lengths to deceive them? Would the men be accused of stalking their fiancées and causing them mental distress? Would they end up on the Tyra Banks Show? These questions (well, not these, per se) are important for today's opera companies. How do you keep classic operas alive when your most steadfast aficionados are no longer living? I hope the Portland Opera continues their efforts toward reinventing opera.
Sponsored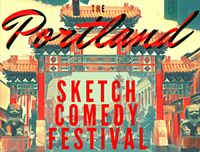 Sketch comedy troupes from all over N. America descend on The Siren Theater for 3 glorious nights.