I catch my breath in the huge Disjecta gallery space in Kenton. Somewhere a woman just screamed bloody murder. I'm effectively taken out of the lovely post-minimalist space created by Arnold J. Kemp and Erik Geschke near the entrance and put into a state of bodily terror. If the guy at the desk saw me flinch or cringe, he revealed nothing.
Surprisingly, that was the only instance where I felt unsafe inside the many galleries around Portland taking part in Portland2012, a biennial of contemporary art. This is problematic. As any decent survey will show, post-WWII contemporary art exerts a push against the viewer. It defines the present moment by way of the future: pushing beyond into unknown territory. Curator Prudence F. Roberts recognizes this. "All these artists evince an interest both in aesthetics and in making sense of an increasingly incomprehensible world—often using the elements that make it incomprehensible as a mirror of its chaos," she writes. In parsing her survey of artists, the breadth of their inner visions and mannerisms is obvious, but so is the lack of a cohesive theme. With the spotlight on differing illustrations of ideas in the 21st century, no clear meta-narrative emerges; just lots of cool stuff.
The scream that startled me at Disjecta came from a video piece, "A Composition for your Per- ipheral Vision," by Mack McFarland, a result of his investigation into how we view art—straight on, "with a myopic focus." The video is specifically made for the periphery, while sitting down inside a two-channel video box. It's experimental in nature, and the experience is startling. Conceptually, his research into neurology, color theory, and psychology help underscore the work's exciting newness.
Elsewhere in the gallery, Susan Seubert's "The Digital Divide" exits the gallery by means of QR codes—those choppy-looking black-and-white boxes you scan and read using smartphones. If you have one, you can access several videos (posted online) of Seubert in various outdoor locations communicating by semaphore—a handheld flag language that is being phased out of use. (Future Wes Andersons will surely treasure it as cultural artifact.) Her messages, not conveyed in words, hint at the divide between knowing what we've done to the natural landscape, and ignoring what is coming as a result.
A sense of communication breakdown is also evoked by Ariana Jacob in her ongoing project, "The American Society for Personally Questioning Political Questions," showing at the Helzer Art Gallery at the Rock Creek campus of Portland Community College. Jacob posits that in an election year, the social practice basis is potent, as it informs our questioning and participation: how to reach across the aisle, Democrat to Republican, and bridge viewpoints that seem to have little to do with each other.
At the Marylhurst Art Gym, Marie Sivak uses sculpture and installation as intimate portals to memory. One work in particular, a room-sized web of pearly organza strands containing small round magnets, manages to beautifully illustrate the connective paths in the brain, conflated with the emotions of recalling our past. Equally poignant and elegant are the works of Cynthia Lahti and Chris Knight. Lahti folds paper illustrations from catalogs into swirling, ebullient forms that resemble classic figurines, but embody deeper layers of human drama. Knight creates elaborate tableaus, moderately colored, that manifest "a small, often curious mythology." He is hopefully, if incompletely, transcending culture to reach a mutual understanding of reality—like all of us. Together, these works reach out furthest into the collective unknown, and offer a suggestion the biennial as a whole seems to shirk: swim, don't sink.
Sponsored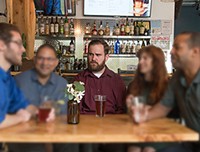 Adults aged 18-35 with good hearing will be paid for their time. Located at the Portland VA Medical Center