A few months back at the Fine Grind Café, artist J Shea 9 sat down at my table and unwrapped the brown paper from a package. He held up a wooden board, inked with a triangular graffiti tumbleweed. Casually, Shea explained, "I'm doing this collab with an artist from Japan, Oeil." The series of overlapping 3D shapes was Oeil's contribution.
Compound Gallery's Matt Wagner curated this collaborative piece and 12 others. "Last year I had wood cut into 45-centimeter squares in Japan and I delivered them to my favorite Japanese artists," Wagner writes in an email. "They sent them back to me and I passed them on to some of my favorite locals."
On June 4, Strange Bedfellows opened at Compound, showcasing the blind collabs between urban artists from Japan and Portland. Some pairs of artists approached the project like an ad team, taking liberties on their partner's work in favor of a cohesive product, while other artists upheld the old train-yard mantra, "You don't paint over my lines, I won't paint over yours." Each approach offers its own take on urban art and its history and traditions—from graf walls to advertisements and anime—either repping the roots, the billboard, or a tasteful compromise.
Sowl (Japan) and Eatcho painted a benchmark of collaborative success: a red devil with a teapot for a head, a vaporous green mass entering the pot and steam exiting the spout with a koi fish riding the cloud. On the left of the devil is one of Eatcho's signature scaly glob-monsters, its chest unraveling to expose a mishmash of tribal patterns. Eatcho's precise invasions into Sowl's devil are as successful as Matt Wagner's curatorial prowess in pairing these artists.
Mhak (Japan) and Zach Johnsen, artists with distinctly dissimilar styles, produced a raw tangle of illustration and abstract design. Tessellated pillows snake around the majority of the canvas, skinned in a pastel flannel, a design Mhak often repeats in his pieces. Johnsen rose to the challenge, adding a man caught mid-run in Mhak's designscape. Johnsen's man isn't running through Mhak's shape, he's running inside it, giving the otherwise flat pattern depth—a technique he's used in his Tank Theory designs.
Within the spectrum of urban art, Oeil's abstract patterns sit opposite J Shea 9's character-based fantasies, but their collaboration feels like the work of one person. Part of this is due to Shea's control over the color scheme—Oeil used only black, leaving room for Shea to create a unified mood. Shea's background is a smoky bleed of cold red and hot orange, like an obstructed sunrise. Oeil's design is the welcome obstruction. A wispy woman offers Oeil's graffiti-mountain a glowing hornet, a school of fish circling behind her back and her yellow heart held low in their undertow.
Why did these pieces stand out as successes? Compound's Matt Wagner says, "Most people's context in seeing graffiti is not on a train or a wall. They are more familiar with it through T-shirts, sneakers, and advertising." And advertising by its very nature is a collaboration of artists, designers, and writers. When it's done well, advertising simply appears, lacking the fingerprints of the many contributors. It's no wonder that the most successful pieces of the show took a similar approach, giving or taking for the sake of unity.
Strange Bedfellows will also have a Tokyo edition, where Portland artists start the cycle, sending work to their Japanese bunkmates. Maybe I'll send this review to an alt-weekly in Tokyo so I can get in on the action.
Sponsored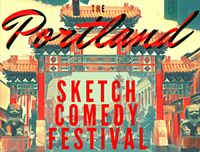 Sketch comedy troupes from all over N. America descend on The Siren Theater for 3 glorious nights.