MENOMENA IS BROKEN. Once only a hunch often whispered about, it's now all but confirmed in conversation with the band. The fact that this truly stunning musical triumvirate has survived this long is an affront to the way all bands have been taught to interact, create music, and exist. From top to bottom, Menomena is immersed in a level of dysfunction far exceeding any of their musical peers. It should be noted, since this is rock and roll, that Menomena's defective nature is not linked to drugs, sex, or general living in excess. Instead the band doesn't function properly because dysfunction is all they know, and frankly, it's what works.
The three multi-instrumental artists—Brent Knopf, Danny Seim, Justin Harris—are very different people with very different ideas. This collaborative outfit has no defined roles—there is no lead singer, primary songwriter, or given voice to Menomena—and perhaps because of this, there are times when the band is a rudderless vessel prone to elongated periods of dormancy, if not disappearing entirely. While the three bandmates have always worked as extensions of each other, gradually shaping songs along the way, there is a divide between the members of Menomena.
Moments of sheer isolation are what make Menomena arguably the finest Portland band of our generation. They slowly (this cannot be stressed enough) create recordings of such staggering artistic vision and purpose that the band easily shakes free of any conventional genre tags and works on a plane entirely their own, a feat few acts the world over can rightfully claim. Menomena labors over recordings for years on end, each member in seclusion, despite living so close to each other. Songs are shared primarily via email, with the band meeting only a handful of times in person to take notes on the process. Given Menomena's long history and tumultuous track record, even the submission process is handled with fearful trepidation. "We're all pretty self-conscious of giving each other just a rough idea, because we've kind of learned in the past that sometimes it's hard to see the finished song through the trees," explains Seim.
From there a song will be passed between members, each recording at home, like a trio of strangers. In separate discussions with Knopf and Seim, neither could recall if all three members were ever in the same room while recording. "There's one, maybe two, days when I recorded piano and Justin was listening in. Besides that, nothing else comes to mind. I'm not aware of a single instance when we were together," says Knopf.
"The isolation in which we've become accustomed to writing our songs is almost killing us," says Seim, discussing the three-year gap between recordings, a lifetime in an era where blog bands are chewed up and spat out in a matter of months by the insatiable hunger of the listening public. "We talk to friends of ours who say, 'All right, we've been in the studio for a while. Two weeks, we got the album start to finish,'" Seim says. "We're like, 'Oh man, that'd be so great, what's wrong with our band? It's broken.' Then we realize every album's been this way. It's always the same thing, and it's such a terrible, personal, everything-going-wrong conflict that maybe we just repress until the next three years and we're like, 'Oh yeah, this is it again.' It seems fresh and new, but we realize it really hasn't changed that much."
Menomena uses tension to their advantage. Simply put, no Menomena recording should be easy. Their aversion to convenience extends from the recording studio to your headphones, all the way to the baffling artwork that accompanies each album—their latest, Mines, contributes to this gorgeous tradition a hidden 3D cover (whose splendor I have yet to experience, since my pupils apparently cannot handle such magic, but I've been told it really does work). In an effort to harness the creativity the three bring to their songs, feelings are hurt, egos stomped, and the future of the livelihood known as Menomena, LLC, is threatened on a nearly daily basis. But while they might buckle, they never break, even if it seems like every new Menomena song will be their last. "I don't think that there's been any decision or announcement in that direction," says Knopf when asked if this will be the band's final album. "I think this one was tougher to make, but nothing's impossible."
Given their painstaking cut-and-paste method of song assembly, Mines feels like a novel penned via exquisite corpse, as each member contributes, then vanishes, only to return later to add more. If musical history has taught us anything, it's that this method should fail in spectacular fashion. It's the recipe for an unlistenable album, the type usually reserved for exit recordings from bands that clearly loathe each other, or cash-motivated reunions—possibly the worst example being the Pixies' "Bam Thwok" (the thankfully forgotten reunion tune so bad it was rejected by the animated ogre creators behind the Shrek 2 soundtrack, and now acts as the highwater mark for unnecessary recordings from necessary bands).
Of course Mines is none of these things. Like its predecessor Friend and Foe, the album is layered to the heavens yet is still a loose recording, one that benefits from years of minute structural building, demolishing, and rebuilding. It might be a skyscraper assembled with toothpicks, but it's still wondrous to behold. "I think that is one thing that we do share, we all really want every record that we make to be as good as it can be," explains Knopf. "We're hoping that this record resonates with people and we're hoping it's all worth it."
If the album's conception gradually took shape amid taut hostility, you can't tell upon listening. Mines' sleepy-eyed opener "Queen Back Acid" is deliberately paced, a theme repeated throughout the band's most restrained—and yes, grown up—recording to date. In its three-plus years in the making, there have been failed marriages and various "real-life" setbacks, the sort of occurrences that throw into question the importance of the band itself, and the bruising sacrifice it requires of each member. Given this, Mines has glimpses of a tender vulnerability not seen in previous releases. This extends from the slinking "Oh Pretty Boy, You're Such a Big Boy" ("Hold my hands feel them shake/I fear I'm showing my age"); to the dynamic "Killemall" ("Now time spent awake is just time spent alone"); and finally in the album's sparse closing moment, "INTIL" ("The times I've had with you/I'm really not myself/Because you don't want the truth/You want someone else").
It's a point Seim touches on when talking about the lyrical similarities that bind the record together. "I know all three of us had really rough personal lives," he says. "In the grand scheme of things, we're not trying to be martyrs here, but there's some similarities that might've made it onto the record."
The difficulties in recording Mines were eclipsed by the fate of its unlikely cover subject, a picturesque statue from the property of local philanthropist Jean Vollum (Harris actually lives at this residence, his base for Menomena recordings). According to the Oregonian, the Frederic Littman statue ("Mother and Child") was one of two that were swiped by a former security guard and her boyfriend in December 2007. The statue narrowly survived being sold for scrap—to fund the thieves' drug habits—and lost numerous limbs, along with the baby it once held, in the process. For a foldout poster that accompanies Mines, local artist Tyler Stout drew this shadowy incident, complete with glowing-eyed crooks; it's the band's ambiguous way of explaining the limbless subject that adorns their recording. If Mines really is a survival record, then "Mother and Child" is truly a fitting cover model.
And like that statue, at this point in their existence all Menomena can hope to do is survive. Despite the devastating wake left behind by their personal lives and battered friendships, the band truly does thrive in the chaos of their dysfunctional environment. Sometimes beautiful art isn't quite so glorious when it's being created, which for Menomena is nothing new. "I was thinking that our huge personality problem was just happening in the past year," explains Seim. "But I realized we've been at each other's throats for a decade."
Sponsored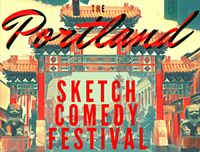 Sketch comedy troupes from all over N. America descend on The Siren Theater for 3 glorious nights.