IT'S BEEN A BIG YEAR for local artist and curator Jenene Nagy. She kicked things off in January with her solo show at Disjecta, Tidal, then followed up with an installation in the biennial Portland2010. In the months after Portland2010, Nagy prepared for a June-through-August residency at Raid Projects in Los Angeles, which is now coming to a close.
Sponsored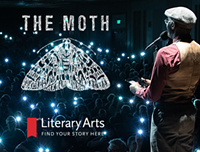 Literary Arts presents The Moth: Portland Mainstage. True Stories, told live. Held at Arlene Schnitzer Concert Hall.
In this whirlwind of activity, Nagy's curatorial ambitions were left on the back burner. (From 2006-2008, Nagy served as co-curator of Tilt Gallery and Project Space.) But after more than a year of curatorial silence, Disjecta announced last week that Nagy has been appointed their 2011-2012 curator-in-residence.
I emailed Nagy a few questions about her upcoming Disjecta programming. While she wasn't able to reveal many details, she gave some clues as to where things are headed for Disjecta's next season.
MERCURY: How did the opportunity to jump in as curator-in-residence at Disjecta come about?
JENENE NAGY: Well, I didn't jump in, I was appointed by the board. Meagan Atiyeh and Bryan Suereth had both been familiar with the programming at TILT and when I decided to stay in Portland for at least another year (instead of staying in LA), they asked me if I was interested in the position. Curator-in-residence is a new program Disjecta is establishing as a way to continue offering a range of creative opportunities. It will be a platform for emerging curators to develop their research interests and present new work to the community.
You've done a good bit of curating in the past—how will your upcoming programming align with TILT's past offerings?
My interests remain the same. I want to help produce ambitious projects and foster greatness.
What sorts of shows are you planning?
A series of solo exhibitions and maybe one two-person show by local and national artists.
Your work from the past few years has erred toward formalist installations. How will your Disjecta programming relate to your personal canon?
Every show will be hot pink. Just kidding. All the artists in the series will specifically address the space in some way.
The TILT show with Damien Gilley and Ethan Rose was pretty damn strong. If you could court any collaboration between two or more living artists, who would those artists be?
Zaha Hadid and Katharina Grosse (do architects count?). Locally, Laura Hughes and Tahni Holt.