GABRIEL LISTON has cabinets brimming with beautiful, hand-bound sketchbooks. "When I don't have the sketchbook with me, I'll draw on my forearms," he says. Needless to say, Liston is a prolific artist, both a painter and a printmaker. Many of his sketchbooks are reclaimed children's books, and appropriately so: A lot of his work is narrative-based—collaged observations, often featuring kids (sometimes his own) playing in fantastical yet decayed landscapes. This month, Liston completed a Signal Fire residency in Montana. At his studio we flipped through his observational sketches and relived stories, from both this residency and the recent past, manifested by rich brushstrokes and vibrant figures.
MONTANA MERMAIDS: This is the Sip 'n' Dip Lounge in Great Falls [pointing at a sketch]. There are mermaids back there, in the tank, swimming. It looks like they sew their own outfits. Then at 10 pm, Piano Pat comes on—a woman that's got to be about 85—and does renditions of I think Johnny Cash.
CHUCK NORRIS: Out at the coast there's this big piece of driftwood called the Chuck Norris that I've been painting for, like, five years—when we got up to it, someone had inscribed the name, "CHUCK NORRIS," really big on it. It would get kicked around up and down above Seal Rock. One night I went out on a full moon and painted it, and it was the fucking hardest thing.
HOW TO DRAW: Every once in a while I make a book about how to draw this or that: "How to draw children as they fall." Those are all really tongue-in-cheek, of course.
OBSERVATION AND EMPATHY: My whole drawing system is pretending to do something with my own body—that point of empathy, that's why figurative drawings are so affecting.
Gabriel Liston currently has paintings on display at Froelick Gallery, 714 NW Davis.
Sponsored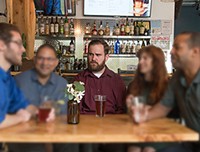 Adults aged 18-35 with good hearing will be paid for their time. Located at the Portland VA Medical Center