"I'M NOT TRYING TO BE RICH—as long as my mom's okay," says rapper Vince Staples. He doesn't hesitate to describe his childhood in Long Beach, California, in explicit detail, vividly illustrating what it was like growing up between gangs and socioeconomic dead ends. Last year's Summertime '06, his double-disc debut on Def Jam, is characterized by Staples' steely descriptions of hold-ups, corpses, and systemic hypocrisy in a sharp and clarion voice. With deft lyricism piled atop deep sadness, it's a fully formed artistic expression of Staples' self. The album sprawls over beats that are more like industrial vistas and milky dope-scapes than feel-good rhythmic samples. Summertime '06 sounds like a man trying to dig his way out of bedrock.
Sponsored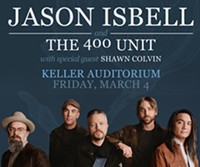 Jason Isbell has established himself as one of the most respected songwriters of his generation. Don't miss Jason Isbell and the 400 Unit, March 4th at Keller Auditorium!
The 22-year-old talks about Portland like a local. "I think one of our first shows was in Portland," he says, calling from the Laneway Festival in Australia. "With... what's the dude's name? MY-G! It was at a little rec room."
He goes on, offering an unsolicited opinion about the Trail Blazers, "I want to say that LaMarcus Aldridge is a very bad man, he should've stayed put. I know everyone's proud of C.J. [McCollum] right now—I'm proud of him too. You have a good core; the team resembles 'Portland basketball' more than it ever has."
Staples believes hip-hop can flourish anywhere, and scoffs at the notion that Portland has a tense relationship with its hip-hop community. "You'd be surprised," he says. "You could even go to Idaho and find a hip-hop scene." This he chocks up to the great equalizer: the internet.
But for some listeners, to love Staples' music is to struggle to identify with themes and backgrounds in his lyrics that are dissimilar to their own. "It's all just in what you want to listen to or not," Staples says, dismissing such disconnect. "We all come from very different places—it's more about a willingness to learn.
"I want listeners to take whatever they choose," he continues. "There's nothing hidden: My job is to make music. That's what I'm supposed to do: make the most honest music possible."
For someone who has no interest in politics—"There's greater issues at hand a lot closer to my heart," he says—Staples speaks about pretty much everything and everyone with an arresting empathy. It's rare to find in any pop music, but for Staples it's crucial.
"Eliminate that disconnect," he says... and then wants to talk more about the Blazers.