LADIES AND GENTRY: Portland Revels is an annual theatrical concert of yuletide music from any corner of the globe. It's often got a ren-faire vibe, replete with courtly pageantry, tunics 'n' tights. Brocade? Brocade.
Sponsored
Sketch comedy troupes from all over N. America descend on The Siren Theater for 3 glorious nights.
This season, Ithica Tell's all set to play Empress of Europe—which works, because she already rules.
As Vagabond Opera's Eric Stern leads an enthusiastic chorus of Eastern European folk tunes, Tell will "basically sit there being royally dismissive."
DEFYING TYPE—"As an actor, I take any role they offer me that I don't feel is demeaning to my femalehood or my personhood on this planet. Aside from that, heck yeah, I'll play! I play for a living! I try to be straight with people and give them the unadulterated My Self. I'm like marmite; you either like my flavor or you don't. I'm 43... I'm almost six feet tall... I'm brown skinned, but really 'white' in the mouth as far as America is concerned... I'm one of the most masculine women in this theater community. I have played dudes on stage; I have a very deep [contralto] voice. I'm confident I'll get cast in the really good character roles, but I also want to show what it's like to be in love. I like being in love, and it looks good on me!"
THANKS (?) FOR ASKING—"Technically they're modeling me after Catherine the Great, who was of course not African, but was awesome! Honestly, when Gray Eubank and Bruce Hostetler started writing the script, they knew they wanted to work with me again, and they just made me the Empress. People were like, 'Does that make sense?' and they were like, 'Who cares.' Very possibly someone will still ask, 'Why do you have a black empress of Russia?' and the answer is just going to be 'Why not?' which speaks to the idea of Revels: We're all a community and we're all in this together."
DON'T BE FOOLED BY HER MAJESTY'S FEIGNED INDIFFERENCE—"I have to say, I'm enthralled by the music this season. I don't understand anything it's saying—but it's stunning. There's one part when the women sing alone and it's just... piercing; and the men have songs that are so booming and deep... they vibrate you, you know? I'm not singing except during [audience] sing-alongs. Since my character is evidently of African descent, it would seem disingenuous for me to know these songs anyway."
VIVA LA RESTORATION—"I just learned a lot in Elizabeth Huffman's Restoration comedy workshop [featuring post-Shakespearean scripts]. I'm really looking forward to Portland doing some of those plays, because there are lots of roles for women, and plays by women... from the first era that women were ever allowed to play women onstage."
Sponsored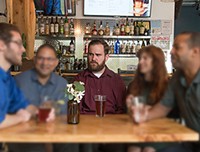 Adults aged 18-35 with good hearing will be paid for their time. Located at the Portland VA Medical Center