When I walk into graphic novelist Craig Thompson's Southeast Portland studio, he apologizes for the mess. He's serious, though it feels like a joke; I hadn't even known rooms could be this clean. Books are shelved and stacked neatly, no surface seems to have even a hint of dust. Particularly immaculate is his drafting table, from which he's recently cleared the last traces of Habibi, his latest book, and his first since 2004.
He's just received his first finished copy of the nearly 700-page volume, and when he picks it up, he looks half amazed and half relieved. "It was six active years of work," he says, ticking off months spent writing and rewriting chapters, a whole year "lost in revisions and edits." The ending alone took Thompson several months to write, after a long period of "that whole horrible, neurotic, coffee-induced kind of pathetic writer's block." He discarded over 1,000 pages of thumbnail sketches during that time.
Sponsored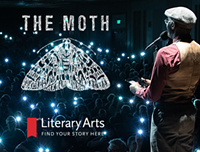 Literary Arts presents The Moth: Portland Mainstage. True Stories, told live. Held at Arlene Schnitzer Concert Hall.
The anxiety and caffeine paid off. Habibi isn't just Thompson's greatest work yet; it's one of the most beautiful novels I've read this year. It's also something of a departure for the 36-year-old Thompson, whose acclaimed first two novels, Good-Bye, Chunky Rice and Blankets, were heavily autobiographical. Habibi, set in a semi-dystopian fantasy version of the contemporary Middle East, chronicles the childhoods and young adulthoods of Dodola, a young girl who escapes child slavery, and Zam, a baby boy she rescues in the process.
"After Blankets, I wanted to do something that was fantastical and epic in a Tolkienesque kind of way, or something socially, politically relevant like Joe Sacco's comics journalism," says Thompson. "And then I ended up meeting somewhere in the middle."
Habibi blends the two concepts perfectly. The novel addresses a host of contemporary problems—sexual abuse of children, environmental neglect, the exploitation of the poor—but does so in the context of an epic of enslavement and liberation. After Dodola and Zam break free, they live in a vacant boat, half-buried in the middle of the desert. Dodola is forced to have sex with travelers for food; she's eventually kidnapped and forced into the harem of a psychopathic sultan. Zam spends the next years searching for her, moving into a house of eunuchs, before eventually finding his way to the sultan's compound.
Thompson says he was partially inspired by One Thousand and One Nights, which he read after writing some early stories and sketches for the book. "As all these images of camels and deserts were conjured," he says, "[I thought] that was more interesting than any kind of dragon bullshit I could come up with."
He also started reading the Koran. While Thompson's best-known novel, Blankets, dealt heavily with his Christian upbringing, Habibi (which is Arabic for "my beloved") is very much inspired by Islam. "If Blankets was introverted in examining the faith I grew up in, [then] with Habibi, I sought to expand that," Thompson explains. "I started from the same core of what I knew, Christianity, [and] followed it further through Islam."
Some of the most beautiful pages of Habibi are the ones illustrating stories from the Koran, sometimes alone, sometimes side by side with similar passages from the Bible. The artwork is elegant, striking, reverent—Thompson researched the religion for months, relying on books he got from Powell's or the public library, and talking to Muslim friends. He learned the Arabic alphabet, learned to recognize some words.
"Like most Americans, I was fed some of the propaganda that there's something about Islam that's inherently anti-Christian," Thompson says, "and right away, from my earliest readings of the Koran, what I discovered is that there are very clear verses that say Muslims and Jews and Christians worship the same God; we're brothers."
Habibi is set in a fantasy Middle East, but it's one with real American-made problems. One of the book's most compelling minor characters is Noah, an unaccountably cheerful "fisherman" who rows through a poisoned harbor, polluted with "diarrhea and sludge... cyanide, arsenic, lead, nitrogen sulfate—all manner of human waste." In a nearby city, well-off residents drink bottled water and wash their SUVs in front of walls adorned with the Pepsi logo. And there's still, of course, the sex slave trade, an issue, Thompson notes, that has special resonance to many Portlanders.
"I was processing both American guilt and male guilt in the book," Thompson says. "The American guilt really started to emerge in a post-9/11 sense of becoming more aware of the impact our imperialist culture has on the world. I was processing what it means to be American and to be a passive participant in an empire.
"But my entire life, I've been processing what it means to be a male in a culture that exploits women."
Don't expect a film adaptation of Habibi anytime soon. Obviously, the novel doesn't lend itself to, say, a feel-good Pixar adaptation with a Randy Newman song at the end, but it's easy to imagine a film in the spirit of Persepolis, based on Marjane Satrapi's graphic novel. Thompson won't dismiss the idea completely, but he doesn't seem eager to have to deal with any more "Hollywood bullshit."
"One time, I really gave a lot of energy to a [proposed] Blankets movie," he says. "There were so many disagreements instantly with the producer and director and then with my publisher. It was gross right away. I've had enough time consumed by Hollywood types and bad contracts."
After that experience, he decided he'd never allow Blankets to be adapted for film. "I finally decided I could never make a movie of it because of its personal nature, and because I represent people outside of myself, friends and family that I'm responsible for," he says.
"At least [with the book] I'm responsible for marring their image," he says with a slightly bitter laugh. "I don't want other people doing the same."
He's even turned away offers for toys based on his artwork (although it's admittedly hard to imagine anyone wanting to produce action figures of the largely very unfortunate cast of characters in Habibi). He recently returned from San Diego Comic-Con International, a convention that started as a smallish gathering of comic book fans, and is now a huge behemoth that attracts toy collectors, T-shirt vendors, and movie fans hoping to catch a glimpse of Jackson Rathbone.
"I'm not really a big fan of disposable trash art, like toys and plastic and bad Hollywood movies and all that," Thompson says. "It's just lots of noise, like spiritual noise."
He compares Comic-Con to the Grammy Awards, and he actually knows what he's talking about—in 2007, he was nominated for the Grammy Award for Best Recording Package. He earned the nod for his artwork and design on the album Friend and Foe, the third album from Portland band Menomena, the members of whom are close friends of his. (Thompson lost to the guy who designed an album for Bright Eyes. So enjoy your one win over Portland, Omaha.)
He'd later tour with the band in Europe for a few dates, drawing on a huge paper canvas on the stage while the band played. He recalls both the trip and the experience of working with Menomena with excitement: "That was a wonderful experience; it couldn't be better. We got to go the Grammys, and it was for my best friends." But he says he's done with visual art-rock fusion for now. "After two [of the shows] I definitely had the sense of, 'Okay, stop fooling around and get back to making comics,'" he remembers. "That's where I think my energies are best used."
Thompson recently left for the first tier of his book tour, a two-month-long whirlwind trip that's taking him from Brooklyn to Seattle, then from Frankfurt to Amsterdam. (The trip includes an October 8 appearance at Portland's Wordstock Festival.) He comes back briefly in November, and then embarks on the second part of his tour, also to cities in the US and Europe. He'll likely be talking about more than just Habibi—Top Shelf Productions just reissued Blankets in a new hardcover edition, designed to have the same basic dimensions as Habibi.
Even as he's talking about his itinerary, he already seems eager to come home. Although he was raised in the Midwest, he considers Portland his hometown now. It's the birthplace of Habibi—after he toured behind Blankets for six straight months, in 2004, he moved here for good.
"I didn't have a home, and I didn't know what was going to happen," says Thompson. "But I moved back to Portland because it felt like the most natural, healthy place to come back to, even though that wasn't my intent when I left."
"It's easy for an artist [to live here] because it's relatively cheap and culturally rich," he says. "People here actually work with integrity, and care about content. It's not just about being a scenester."