Sometimes Portland's arts community is downright confounding. I am not talking about putting birds on things, because that joke is stupid, but rather about rampant double-booking of major arts events. The annual overlap between MusicfestNW and PICA's Time-Based Art (TBA) Festival, for example, or the confluence, a few years ago, of the Stumptown Comics Fest and the Bridgetown Comedy Festival. Such overlaps make for a hectic weekend at best—at worst, we give up on art altogether and stay home watching Archer. (Season two is on Netflix Instant!)
This year, something magical happened: There was a shuttle.
The magic shuttle ran in a loop between TBA, the new XOXO Festival, and OMSI's Maker Faire, all of which took place last weekend in Southeast. Yes: For what felt like the first time ever, Portland arts organizations acknowledged the existence of competing events that audiences might also want to attend.
Shuttle-riding audiences caught the last weekend of the 10-day TBA festival, which (under the artistic direction of newcomer Angela Mattox) boasted a higher-than-usual concentration of international artists, including British-German troupe Gob Squad, whose elegant and hilarious riff on Andy Warhol's films was one of the highlights of the festival. Another standout: Congolese dancer Faustin Linyekula, whose Le Cargo was praised for its accessibility and beauty. This year was the fest's last at Washington High School, and as great as that space is, it's time to move on—beer garden chatter had more to say about the weaknesses of the space (the giant auditorium was just too big for some of the late-night acts on the bill) than its strengths.
Just blocks away from Washington High, at Yale Union, the Kickstarter-funded arts 'n' tech festival XOXO featured two days of paradigm-shifting speakers like Etsy's Chad Dickerson, musician Julia Nunes, Kickstarter co-founder Yancey Strickler, and CASH Music's Maggie Vail and Jesse Von Doom, whose nonprofit helps connect musicians with web technology. The conference focuses on "artists and toolmakers," though there were a lot more toolmakers than artists in attendance—$400 is a deal for a weekend pass to a tech conference, I'm told, though hardly affordable for working artists. That said, it was a remarkably well-run event (particularly for its first year), and even broke artists were encouraged to take advantage of a free lineup of film and music events that included Community creator Dan Harmon presenting his amazing unaired pilot Heat Vision and Jack. It's going to be fascinating to see how XOXO evolves in terms of programming, influence, and accessibility.
As for the Maker Faire, well... even with the shuttle, there was just a bit too much going on.
Sponsored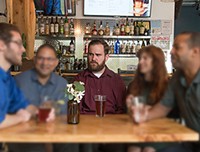 Adults aged 18-35 with good hearing will be paid for their time. Located at the Portland VA Medical Center