The Assassin
Hou Hsiao-Hsien's drama/wuxia film, starring Shu Qi as a young killer. Hollywood Theatre.
Burnt
There's a scene in Burnt where star chef who lost everything but is making a comeback Adam Jones (Bradley Cooper) is sitting in a London Burger King, presumably blowing the mind of up-and-coming lady chef Helene (Sienna Miller) by telling her the problem with fast food: consistency. It isn't that it's cheaply made crap—as Helene correctly points out—but rather that a customer comes to know what to expect, and thus loses interest. Great cooking, Jones mansplains, leaves people wanting to know more. Too bad the filmmakers didn't take this advice when it came to Burnt, a frozen, pre-packaged, totally forgettable dramedy. ANDREA DAMEWOOD Various Theaters
Certifiably Yours: Films from the School of Film
New work from students at the NW Film Center's School of Film. Free admission; more at nwfilm.org. NW Film Center's Whitsell Auditorium.
Creature from the Black Lagoon 3D
The 1954 creature feature, screening in 35mm and old-school 3D, with star Julie Adams in attendance. More at academytheaterpdx.com. Academy Theater.
Dying to Know
A documentary tracing the friendship between Ram Dass and Timothy Leary. Cinema 21.
The Keeping Room
Girl-power westerns never really took off—damn you, Bad Girls!—but they should've, as evidenced by The Keeping Room, in which two Southern women (Brit Marling, Hailee Steinfeld) and their slave (Muna Otaru) defend their home against a couple of nasty marauding Yankees at the end of the Civil War. It's a well-acted film that's quiet and dark with a refreshing female point-of-view, but the moments of high drama feel far between. Still, in the feminist western genre, it's number one with a powder-charged bullet. COURTNEY FERGUSON Living Room Theaters.
Kung Fu Theater
The only known 35mm print of 1980's Fist of the White Lotus, starring Gordon Liu. Hollywood Theatre.
Labyrinth of Lies
The shock at the heart of this Holocaust drama is not the atrocities committed at Auschwitz. It's the revelation that, by the late '50s in an economically booming (West) Germany, the average young German had never even heard of the infamous concentration camp. More commendable as a history lesson than a character study, Labyrinth feels longer than its full two hours due to the understandable grandeur with which it delivers its gravitas. MARJORIE SKINNER Cinema 21.
Love
Cinematic provocateur Gaspar Noé's fourth feature will likely stir up a similar conversation that recently led to Playboy's decision to stop printing nude pictures in their magazine: Why would anyone pay to watch two hours of an expressively lit and beautiful couple doing naughty things when online porn is free of charge? ROBERT HAM Cinema 21.
Miss You Already
See review this issue. Various Theaters
The Northwest Filmmakers' Festival
The NW Film Center's annual survey of regional film. More in next week's Mercury and at nwfilm.org. NW Film Center's Whitsell Auditorium.
Our Brand Is Crisis
David Gordon Green has had one of the damnedest careers in modern filmmaking, drifting between the gorgeous Terrence Malick-ness of George Washington to the barn-broad goofiness of Pineapple Express with seemingly negative perspiration. The new political semi-satire Our Brand Is Crisis is far from Green's worst movie—this is a world where Your Highness still exists, after all—but it definitely feels like his most impersonal. While the talented cast occasionally gets a screwball, smiling-dagger rhythm going, the narrative's insistence on staying on point certainly could have benefited from some of Green's old "what the hell" wobbliness. ANDREW WRIGHT Various Theaters.
The Peanuts Movie
One would think the greatest mistake a rebooted Peanuts movie could make would be updating the characters—and yet? This remake is 100 percent authentic to its roots (other than being CG-animated and in 3D), and while occasionally cute, it's also 100 percent tedious. It's basically a rehash of every classic Peanuts strip you've read a billion times before, providing nothing new for adults or a single reason why children who are new to the franchise should care. The six-year-old I went with summed up this disconnect perfectly when asked, "What did you think?" and she replied, "Where were the talking peanuts?" WM. STEVEN HUMPHREY Various Theaters
Sicario
Denis Villeneuve's new drug thriller is both personal and political, a scathing portrait of the drug war and an elemental allegory in which moral dilemmas are depicted by characters crashing violently into each other. NED LANNAMANN Various Theaters.
Sir Doug and the Genuine Texas Groove
A documentary of the life and music of Doug Sahm, who spent time in San Francisco during the Summer of Love and returned to Texas to form the Texas Tornados. Screens as part of the Hollywood's Sonic Cinema series. Hollywood Theatre.
Spectre
See Film, this issue. Various Theaters
Suffragette
See review this issue. Various Theaters.
Truth
Truth tells the story of the news story that brought down CBS producer Mary Mapes (Cate Blanchett) and Dan Rather (Robert Redford). It's compelling, but Truth has a big blind spot when it comes to its own subjects. It never acknowledges that Mapes' and Rather's brand of journalism promoted the same misconceptions that brought them down—the idea of the mythical, authoritative, perfectly objective "News Man." VINCE MANCINI Various Theaters
The Walk
Philippe Petit didn't die when he walked a high wire between New York City's World Trade Center towers back in 1974. So where's the dramatic tension? It comes from the dizzying, vertigo-inspiring, fucking terrifying scenes of Petit (Joseph Gordon-Levitt) navigating the 110-stories-high wire. WM. STEVEN HUMPHREY Laurelhurst Theater.
The Wild Bunch
See My, What a Busy Week! Hollywood Theatre.
---
MEANS WE RECOMMEND IT. Theater locations are accurate Friday, November 6-Thursday, November 12, unless otherwise noted. Movie times are updated daily and are available here.
Sponsored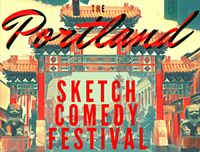 Sketch comedy troupes from all over N. America descend on The Siren Theater for 3 glorious nights.