Amelie
So. Much. Whimsy! Academy Theater.
Sponsored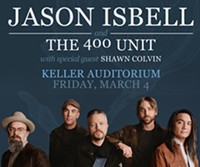 Jason Isbell has established himself as one of the most respected songwriters of his generation. Don't miss Jason Isbell and the 400 Unit, March 4th at Keller Auditorium!
The Choice
Remember how in The NeverEnding Story, a boy reads a mysterious book that comes to life before his eyes, plunging him into a thrilling adventure in an alternate universe? Watching a new movie from Nicholas Sparks, the romance author whose film adaptations are constantly slithering into multiplexes, is kinda like that, if instead of a badass adventure story with flying dog-dragons, you fell into a fancy plate with an inspirational quote on it. ALISON HALLETT Various Theaters.
Deadpool
See review this issue. Various Theaters.
Fight Club
"Nice. Big. Cock." Laurelhurst Theater.
Hail, Caesar!
It doesn't matter that Hail, Caesar! barely hangs together. It's too much fun to watch. Joel and Ethan Coen have given us more than their share of bone-chilling noir and ink-black comedy; they've made films that deal with morality and mortality and the divine absurdity of existence. With Hail, Caesar!, they've forgone the brow furrowing and decided to revel in their favorite topic of all—movies. NED LANNAMANN Various Theaters.
How to Be Single
See review this issue. Various Theaters.
Meet Me in St. Louis
"Nice girls don't let men kiss them until after they're engaged. Men don't want the bloom rubbed off." Hollywood Theatre.
The Mormon Church Explains It All to You
On 16mm, film historian Dennis Nyback presents "three complete films, and one excerpt, made by the Mormon Church in Salt Lake City between 1964 and 1974." Hollywood Theatre.
NW Noir
A noir appreciation night, with a $3 suggested donation going to the National Film Noir Foundation. Tonight, a specially selected triple-feature of crime-related tales where romance goes horribly wrong. The Spare Room.
Oscar-Nominated Shorts—Documentary
Short documentaries nominated for Academy Awards, screening in two parts. Wait. Which part has Spiderman: Friend or Foe? Hollywood Theatre.
Oscar-Nominated Shorts—Live Action
This is your chance to get a leg up on the rest of the chumps in your Oscar betting pool, because you know they're just going eenie-meenie-miney-moe. Then again... half the people actually voting are just gonna eenie-meenie-miney-moe it, too. Might as well enjoy all this high-quality international filmmaking packed into 30 minutes or less. Hollywood Theatre.
Oscar-Nominated Shorts—Animated
Some of the most adventurous filmmaking at this years Oscars will definitely be found in this program, including World of Tomorrow, the new hotness from mind-bending stick-figure animator Don Hertzfeldt, and director Sanjay Patel's much talked-about Sanjay's Super Team, from Pixar. Hollywood Theatre.
Portland Black Film Festival
See Film, this issue. Hollywood Theatre.
Portland International Film Festival
See Film, this issue. Cinema 21, Fox Tower 10, Moreland Theater, NW Film Center's Whitsell Auditorium, OMSI Empirical Theater, Roseway Theater, World Trade Center Theater.
Pride and Prejudice and Zombies
Heading into Pride and Prejudice and Zombies, there are only two things you're dying to see: Mr. Darcy and zombies. The more the better (especially of the Darcy variety). Well, good news for all you empire waistoids—this adaption of Seth Grahame-Smith's 2009 parody novel of Jane Austen's classic is playing with a full deck of whist cards. It's funny, gory, and packed with moist-eyed Mr. Darcys (well, just one, but he's got moistness in spades). COURTNEY FERGUSON Various Theaters.
Queer Horror
The bimonthly series, hosted by Carla Rossi, returns with Fright Night, the 1985 original about a horror nerd who believes his next door neighbor is a vampire. Spoilers: he absolutely is, and the only person who can help take him out is... Roddy McDowall. Hollywood Theatre.
Repressed Cinema
A monthly series "showing vintage and contemporary films that are obscure, neglected, and from the fringe." This month: a rare 35mm print of Nicholas Meyer's (Star Trek II: The Wrath of Khan) first film, the '70s exploitation classic Invasion of the Bee Girls, which only further highlights the vast difference in coolness between the '70s and the '90s: Their bee girls formed swarms of seductive women literally fucking men to death, and our bee girl did a goofy dance in a Blind Melon video. Hollywood Theatre.
Room
Room is about a boy who is born in the garden shed where his mother, "Ma" (Brie Larson), has been kept captive for seven years, ever since she was abducted at age 17. Five-year-old Jack (Jacob Tremblay) has never seen the world outside of the shed—he doesn't even know such a world exists—and when Ma decides Jack is finally old enough to help carry out an escape attempt, the plan she concocts is dangerous and thrilling. But there's much more to this story: Room is based on the 2010 novel of the same name by Irish Canadian author Emma Donoghue. I read the book in one sitting—in a paroxysm of anxiety and emotional investment that kept me awake until 3 am—and came away impressed by its thoughtful, unexpected treatment of incredibly disturbing subject matter. The film succeeds by the same token. ALISON HALLETT Various Theaters.
The Summer of Sangaile
A story of summer love and infatuation, with a couple of twists: The summer lovers are Lithuanian teenage girls, and they really, really like themselves a good old-fashioned airshow. Clinton Street Theater.
Vinyl
See review this issue. HBO.
Where to Invade Next
See review this issue. Various Theaters.
Zoolander 2
See review this issue. Various Theaters.
---
MEANS WE RECOMMEND IT. Theater locations are accurate Friday, February 12-Thursday, February 18, unless otherwise noted. Movie times are updated daily and are available here.