12 Monkeys
Inspired by Chris Marker's La Jetée, 1995's post-apocalyptic 12 Monkeys remains one of Terry Gilliam's most interesting movies—not to mention one that boasts great turns from Bruce Willis, Madeleine Stowe, and Brad Pitt. This week, the Laurelhurst's got it on the big screen—and at each and every screening, 12 LIVE MONKEYS WILL BE IN ATTENDANCE!!! Laurelhurst Theater.
Sponsored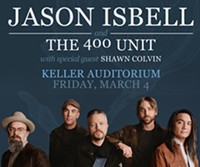 Jason Isbell has established himself as one of the most respected songwriters of his generation. Don't miss Jason Isbell and the 400 Unit, March 4th at Keller Auditorium!
Academy Awards
You might want Mad Max to win (ain't happening), you might want song-and-dance numbers to get the boot (they won't), you might want to applaud loudly at your favorite dead person in the famous dead person montage they always do (you shouldn't but you're gonna), but the only guarantee is that it's gonna take four hours, you're gonna lose your betting pool, white people are going to win everything, and Chris Rock is gonna piss someone off. Maybe you. Hollywood Theatre.
B-Movie Bingo
It's Hollywood's film series where audiences check off a bingo card full of B-movie clichés. This month's entry: American Hunter, starring Chris Mitchum (Robert's kid! It's pretty obvious when you see him.) as an Interpol agent/martial arts expert on a mission to save Wall Street from terrorists, and his girlfriend from four (four!) separate kidnappings. Hollywood Theatre.
Buster Keaton Comedy Special
A double feature of One Week and Go West, with a silent Max Fleischer cartoon thrown in to boot, all with live Unit Orchestra accompaniment. Hollywood Theatre.
Crouching Tiger, Hidden Dragon: Sword of Destiny
Review forthcoming. Netflix.
Deadpool
Ryan Reynolds' second crack at Marvel's most in-your-face character, following a forgotten appearance in the misbegotten X-Men Origins: Wolverine. Deadpool is a terrifically faithful adaptation of some awfully obnoxious source material—if you're a pre-existing devotee, the film's nonstop assortment of cartoony assholes and elbows to the ribs might very well make your head pop off in a paroxysm of joy. Viewers who aren't quite as in touch with their filthy inner child, however, may find the experience of being ceaselessly clobbered over the head with the fourth wall to be a bit much. One of the things that made Tex Avery and Chuck Jones such geniuses is that they knew to keep it under 10 minutes. ANDREW WRIGHT Various Theaters.
Eddie the Eagle
See review this issue. Various Theaters.
Gods of Egypt
Review forthcoming. Various Theaters.
Hail, Caesar!
It doesn't matter that Hail, Caesar! barely hangs together. It's too much fun to watch. Joel and Ethan Coen have given us more than their share of bone-chilling noir and ink-black comedy; they've made films that deal with morality and mortality and the divine absurdity of existence. With Hail, Caesar!, they've forgone the brow furrowing and decided to revel in their favorite topic of all—movies. NED LANNAMANN Various Theaters.
How to Be Single
Honestly, I wouldn't be surprised if the filmmakers focus-grouped my approximate demographic of women and attached sensors to us to see what made our hearts, brains, and nether regions tingle, then checked what we hearted on Tumblr, and then crammed all that shit into one movie with a crowd-pleasing soundtrack. Is this a cheap grab at our base emotions? Yes. Is it effective? Abso-fucking-lutely. ELINOR JONES Various Theaters.
Moon
Sam Bell (Sam Rockwell) is stationed, alone, on the Moon. Nearing the end of his multi-year contract to man a largely automated mining facility, he works as a glorified handyman, wanders the base's empty hallways, watches videos of his wife and daughter back on Earth, and talks with the base's kinda-sweet, kinda-creepy computer (voiced by Kevin Spacey). Rockwell's Sam is a likeable, blue-collar guy with a lonely, shitty job, and director Duncan Jones gracefully captures the guy's weary isolation. You feel for Sam—which makes it all the more messed up when things start to get weird. ERIK HENRIKSEN Academy Theater.
Portland International Film Festival
If you subscribe to the Portland-common wanderlust, but didn't have the cheddar or foresight to actually get the heck out of Dodge, PIFF is your hidey-hole portal to foreign lands. It's not a flashy fest with red carpet premieres (though that has happened in the past), and it doesn't offer major awards or attention—but it does represent an affordable way to stay worldly, even if your damp boots never leave PDX. Also see "Venturing Into the Portland International Film Festival" [Film, Feb 10]. MARJORIE SKINNER Cinema 21, Fox Tower 10, NW Film Center's Whitsell Auditorium, OMSI Empirical Theater, Roseway Theater, World Trade Center Theater.
Queer Commons
The Hollywood's new monthly series presents the controversial When Night Is Falling, about a conservative Christian woman in a funk over her dead dog who catches feelings for a lesbian circus performer in a laundromat. Completely standard scenario, right? However, it's not controversial due to the subject matter, but because nobody can agree on whether it's a good movie you feel shitty for loving, or a shitty movie you can't help but love. Hollywood Theatre.
Somewhere
Somewhere's scene-by-scene similarities to Lost in Translation support the popular view that Sofia Coppola is limited by her station—a filmmaker born into Hollywood royalty, and only fit for chronicling the non-problems of the spoiled rich. But with Lost in Translation, Marie Antoinette, and now Somewhere, Coppola's demonstrated an exceptional knack for revealing the hollow side of celebrity, and within Somewhere's narrow scope, she offers an informed illustration of the adage that you can't buy happiness. Aside from its boilerplate ending, Somewhere is patient, sweet, and revealing—and a breakout role for Elle Fanning, who single-handedly counters an entire film's worth of ennui. ALISON HALLETT Fifth Avenue Cinema.
Triple 9
See review this issue. Various Theaters.
A War
See review this issue. Living Room Theaters.
The Witch
There's a lot that can be said about The Witch, but what matters most is just how remarkable a horror movie it is. Aided by Mark Korven's droning marvel of a score, director Robert Eggers' film largely eschews the easy relief of jump scares, building instead a supercharged atmosphere that amps up whenever something new enters the immaculately composed frame, be it man or rabbit or goat. (Oh, that goddamned goat.) By the final enigmatic scene, a sustained state of magic terror has been achieved that more than justifies the acres of hype. Hype that includes, by the way, a rather lucid, well-reasoned endorsement from an organization known as the Satanic Temple. ANDREW WRIGHT Various Theaters.
---
MEANS WE RECOMMEND IT. Theater locations are accurate Friday, Feb 26-Thursday, March 3, unless otherwise noted. Movie times are updated daily and are available here.