GUSTAV EJSTES is somewhere between Chicago and Boston. He's not sure exactly where, but the important thing is Ejstes and his band, Dungen, are back in the States.
Sponsored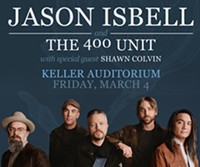 Jason Isbell has established himself as one of the most respected songwriters of his generation. Don't miss Jason Isbell and the 400 Unit, March 4th at Keller Auditorium!
It's been five years since the Swedish psychedelic rock four-piece have toured the US, the same amount of time it's been since they've put out a new record. Dungen's latest album, Allas Sak (loosely translated to "everyone's thing"), came out last month without much fanfare—at least compared to the internet logjam they created with their third LP, 2004's Ta Det Lugnt, which had music websites and bloggers shoveling deserved praise upon Ejstes, who wrote, performed, and recorded almost everything on the album.
It says something that Dungen has captured an American audience, while still writing and singing in Ejstes' mother tongue. "I listen to a lot of music where I don't understand the words," he explains. "I love melodies, and sometimes songs in other languages can express that better."
A lot has obviously changed over the past decade. But Dungen hasn't, really. Allas Sak is just as majestic and singularly Dungen-like as any of those early releases. And although no one sounds exactly like Dungen, their influence has been felt in a relatively short time, most notably on Tame Impala's Kevin Parker. "It's weird, but flattering," says Ejstes, who's actually spoken with Parker, and with whom he says he shares influences. "It's pretty incredible to be part of something bigger."
Ejstes' own influences have been well documented: a teen obsession with hip-hop, along with Aphex Twin and fellow Swede Bo Hansson still loom large. "They informed my way of making music," Ejstes says. "They're the ones I return to." His earliest musical recollections include his mother's Beatles and Hendrix records, his father's expansive folk collection, and his own album of "rock hits" that included Gene Vincent's "Be-Bop-a-Lula" and the Stones' "Satisfaction."
It's interesting to consider how those sounds have synthesized into Dungen. Over the course of seven LPs, Ejstes—and the band he's played with since Ta Det Lugnt came out—has created ethereal folk with prog and jazz adventurousness that always seems to find its way back to classic pop. Flute, fuzz guitar, piano, Elvin Jones-inspired drum fills—it all fits perfectly in Dungen's musical whorl. If any band can get away with being called "psychedelic," a descriptor that's nowadays used for anything with a little extra reverb, it's Dungen.
Unlike most of Dungen's recordings—which fooled many into believing Ejstes was playing with analog—Allas Sak actually was recorded to tape. It also marked the first time since 2002 that Ejstes went with an outside producer in Mattias Glavå. "I just came in with the songs, and we recorded live," says Ejstes. "With me tweaking the knobs, it takes eight months. It took him two weeks. He's a close friend so we're connected, which helps with my vision."
That vision is also helped carried out by the band, which includes noted Swedish prog guitarist Reine Fiske. It says something that the gap between records is due in part to the busy schedules of the musicians Ejstes surrounds himself with—rather than record alone, he chose to wait. Audiences have waited patiently as well, including here in the States.
Ejstes says the band's first performance of the current tour in Chicago was overwhelming. The show here in Portland has been sold out for weeks. Dungen's live shows are scalding, so it's no surprise that the audiences who come out to see the band are a dedicated lot. "Some are new. Others have been with us 10 to 15 years," Ejstes says. "It's just incredible."