MAYBE YOU WERE DOWNTOWN on a rainy night and someone handed you a few crayons and a flyer for something called "Pulp Diction." Maybe you've seen an ad for Tandem, promising comedic romantic exploration, or a goofy poster for something called SexyNurd, or heard about the NW Children's Theatre's steam-punked production of Pinocchio. This seemly random assortment of shows have three things in common: They're brand new, they were developed locally, and they're opening this weekend under the nurturing umbrella of the Fertile Ground festival.
Sponsored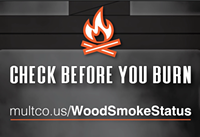 Having clean air means reducing wood smoke. Check before your burn from October 1-March 1.
Now in its second year, Fertile Ground is devoted to supporting and promoting the development of new staged work in Portland, be it dance, comedy, performance art, or traditional theater. (In its inclusivity it serves, as one participating artist pointed out, as a counterpoint to Portland's other contemporary performance festival, PICA's TBA, which emphasizes national and international work.)
The crayons and coloring sheets you might've seen around town came courtesy of the Fertile Ground series Pulp Diction (thepulpstage.weebly.com)—the series' producer, Matt Haynes, got creative with the low-budget advertising. Pulp Diction, which promises "wild nights of cold beer and hot fiction," is a late-night series of staged readings at the Brody Theater, featuring pulpy scripts written by Haynes and other local playwrights (including Oregon Book Award winner Steve Patterson, who contributed the Philip K. Dick-inspired The Rewrite Man).
"What excites me most about Pulp Diction is the opposites it contains", says Hanynes. "Pulp is a really heightened genre, but here it's for the most part being read onstage with minimal stage direction. It's late night, in a bar environment, but focused and intimate."
While Pulp Diction offers an offbeat sampling of local writers, another group of local playwrights are using Fertile Ground as an opportunity to introduce a new company. Eight professional playwrights recently announced the formation of their own company, Playwrights West (playwrightswest.org); their Fertile Ground offering, Introducing... Playwrights West, promises to do just that.
One benefit of Fertile Ground, more apparent this year than last, is that it encourages companies to actually produce projects they've been working on. "We are a great example of a company that picked Fertile Ground as a deadline to hit," says Jessica Wallenfels of Many Hats Collaboration (manyhats-collaboration.com). Wallenfels and her collaborators, Betsy Cross and Elizabeth Klinger, have spent months adapting Ann Patchett's memoir Truth and Beauty, about Patchett's friendship with disabled poet Lucy Grealy. On a bare set in Southeast Portland's tiny Shaking the Tree studio, the women will attempt to "render all of Patchett's words into action"—to convey in movement the relationship between Patchett and Grealy.
On the lighter side is a staged reading of the Patrick Swayze film Road House, directed by local improv stalwart John Breen. "About a year ago, just about every time I turned on the television, Road House was on," co-producer Shelley McLendon says. "And every time I saw that it was on, I HAD to watch it. And every time I watched it, I thought, 'This would make an awesome play.'"
"I think that people should probably come," adds co-producer Courtenay Hameister (host of OPB's LiveWire!). "I think the sex scene alone might be enough to make it worth their money."
Lunchtime discussions and late-night parties round out Fertile Ground; a full schedule is available at fertilegroundpdx.org.