Oregon Ballet Theatre Artistic Director Christopher Stowell wants you to get off—on dance. When asked about the popularity of shows like Dancing with the Stars and So You Think You Can Dance, he says, "I don't like the gossip or the drama, and I don't like the idea of competition within an art form, but I love that people are getting off on watching others move around."
Sponsored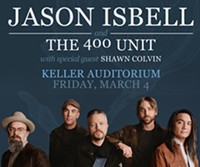 Jason Isbell has established himself as one of the most respected songwriters of his generation. Don't miss Jason Isbell and the 400 Unit, March 4th at Keller Auditorium!
With a similar attitude in mind, Stowell has devised Song & Dance, a program designed to appeal to those who don't know ballet—which would be, well, the majority of the US population.
The evening features four dances, including "Speak," choreographer Trey McIntyre's mix of skateboarding, street fighting, and slam poetry, set to the music of the Bloodhound Gang, notorious for offending Asians with lyrics like "Chinky chinky bang bang I love you," and offending the Swiss with a show in which two band members threw up into each other's mouths. Bloodhound Gang songs often have pun-filled lyrics dealing with sexual subjects that can easily put listeners off—OBT's dance is set to the 1996 gripe-fest "Shut Up."
"The theme of the song is things that [lead vocalist Jimmy Pop] hates," Stowell says. "There are a few things he hates that we would not promote him hating [like lesbians]. The song is great and it's tongue in cheek, but I wouldn't want anyone to think that the ballet is okay with that, so we do bleep a couple of words."
Moving from the ridiculous to the sublime, Song & Dance also includes "Left Unsaid," in which choreographer Nicolo Fonte integrates classic Iyengar yoga poses. Iyengar yoga focuses on detail and precision of body alignment, making it ballet-like in nature. Portland yoga teacher Julie Gudmestad, who previewed the piece, observed, "It is a real treat to see people in such fabulous shape, who have both the flexibility and the strength to do the extreme forms of these poses."
Rounding out the eclectic evening is "Eyes on You," in which local soprano Pamela South performs Cole Porter songs while men dance in 1930s underwear—silk boxers, wife beaters, and garters.
Oh, and there's also square dancing. To baroque music. With a square dance caller. In other words, something for everyone to get off on.