BLAKE NELSON'S Girl is a seminal Portland novel: Set in the early '90s, it's about a suburban teenager figuring out how to define herself in relation to Portland's burgeoning subculture. These days, Nelson is a full-time YA author (he also wrote Paranoid Park, on which the Gus Van Sant film of the same name was based) living in LA, but Girl was his first novel, written while he was living in Portland in his late 20s, and originally serialized in Sassy magazine. More than 15 years after the publication of Girl, Nelson recently began serializing a sequel on a new teen-oriented literary social network site called Figment. In Dream School, protagonist Andrea Marr leaves Portland to attend an East Coast college—a lightly fictionalized Wesleyan—where she struggles to fit in with a radically different culture. I recently spoke with Nelson about publishing on the internet, time travel, and what it's like to revisit his favorite character.
Sponsored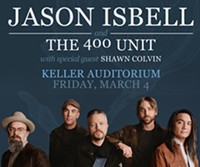 Jason Isbell has established himself as one of the most respected songwriters of his generation. Don't miss Jason Isbell and the 400 Unit, March 4th at Keller Auditorium!
MERCURY: Was it coincidence or contrivance that you serialized Girl in Sassy and are now serializing the sequel online?
BLAKE NELSON: That was totally the plan. That was the whole gimmick. "Remember when Sassy printed it?" But I don't think people realize... some of the blog mentions have been like, "Blake is writing the sequel to Girl right now! He's writing it really fast!"
Have you been reconnecting with old Girl fans?
I think so.... If I Google Dream School I get lots of people talking about it [like] it's like finding an old friend, or something. That's why I wanted to get it out there... what I used to do when people would contact me through the website and ask me about a Girl sequel, I would cut and paste it in the body of the email and send it to them. People would freak out. That was really fun.
Part of the fun of Girl is trying to figure out what all the PDX landmarks are—if I'd gone to Wesleyan, would I be having a similar experience with Dream School?
It's a little fictionalized, but yeah, things like the art center where they do the screenings, and when they go around to the other schools.... When I was in college I was in a band, we'd go play at the other colleges, and so my memories of doing that, people might recognize.
When does it actually take place? Suddenly Andrea is talking about websites, so it's obviously not the early '90s anymore—it feels like we might have time traveled a little.
It has two time travel problems, I knew it had to start exactly where the other one left off. So the first time I wrote it [Nelson has written several drafts over the years] I was fudging the time a little bit and trying to keep it so it was of interest to people in 2002, or whenever I wrote it. And that worked pretty good, but then when Figment wanted to do it, I did it again, and tried to fudge things just a little. I knew that people if they were reading it too closely would notice. [But while] the people who liked Girl will understand that problem, the teenagers, if it's not near them in timeframe, they're gonna have trouble with it.
It's cute to hear Andrea talking about "hipsters."
Is the world "hipster" actually in Dream School? Oh, god.