Jacobean court tragedies are the equivalent of Gossip Girl, just with more death; the problems of the privileged are glamorous, but self-induced. In Artists Repertory Theatre's production of (I Am Still) The Duchess of Malfi, Joseph Fisher re-imagines John Webster's macabre drama for a contemporary audience.
The language is fresh, Jon Kretzu elegantly directs the production, and the cast handles intimate moments, complex fight choreography, and tense torture scenes with aplomb. But for the first half, I was frustrated, bored, and repulsed by the conflicts of violent, soulless characters like the Cardinal (Todd Van Voris), Ferdinand (Jake Street), and Bosola (Chris Murray). Then somehow, by the end, the tragic elegance of the Duchess (Sara Catherine Wheatley) won me over.
Political figures with the celebrity of the Duchess are rare these days; do Princess Di, Jackie O, or Kate Middleton even compare? Fisher's adaptation attempts obvious comparisons to the Occupy Movement, but the citizens of Amalfi who idolize their divine Duchess and riot at her disappearance are nothing like the Occupiers who identify and protest the corrupt control of moneyed power. We like to fancy ourselves beyond that kind of adulation now.
But 23 million Americans tuned in to watch the royal wedding last year. And bafflingly, Gossip Girl just hit its 100th episode. It's as the flamboyant gossipmonger Delio (Nicholas Hongola) says at the end of the play: the sex, violence, and corruption of the beautiful and powerful are absolutely irresistible. We are an insatiable public; Fisher has given us exactly what we are after, and he helps us hate ourselves for wanting it.
Sponsored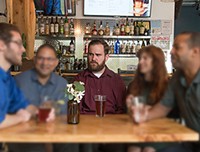 Adults aged 18-35 with good hearing will be paid for their time. Located at the Portland VA Medical Center