When I fell in love with Anne Lamott's novels and memoirs as a teenager, it was because she wrote about the kind of people I wanted to know, or maybe to be: Her characters were empathetic, smart, generous, and spiritually conflicted, and she herself was an awkward, endearingly imperfect narrator. As a teenager, I found it comforting to read about Lamott's insecurities as a new mom (Operating Instructions) and reluctant, potty-mouthed Christian (Traveling Mercies); as an adult reading about Lamott's grandmothering insecurities, I think it's about time she got over herself.
In Some Assembly Required, Lamott teams up with her son Sam; as Sam was the subject of Operating Instructions, so Some Assembly revolves around Sam's son Jax, born when Sam was just 19.
As Lamott chronicle's her grandson's first year, she struggles to let Sam and his partner Amy make their own decisions about how and where to live their lives. The book is, in large part, Lamott's conversation with herself as she strains not to meddle; she also visits India, talks about God a lot, and, of course, laments the tendency of clothes to shrink if left in the closet for too long.
Lamott still has a knack for wry, vivid juxtapositions, and there's funny stuff here—being pregnant is "like having a terminal illness, but in a good way"; her toddler grandson, playing with his toys, is "wired and methodical in his work, like a tiny German crackhead." But the memoir as a whole feels indulgent and slack, and—compared to her best work—not particularly enlightening.
Sponsored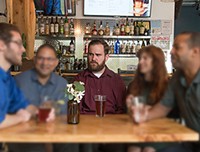 Adults aged 18-35 with good hearing will be paid for their time. Located at the Portland VA Medical Center